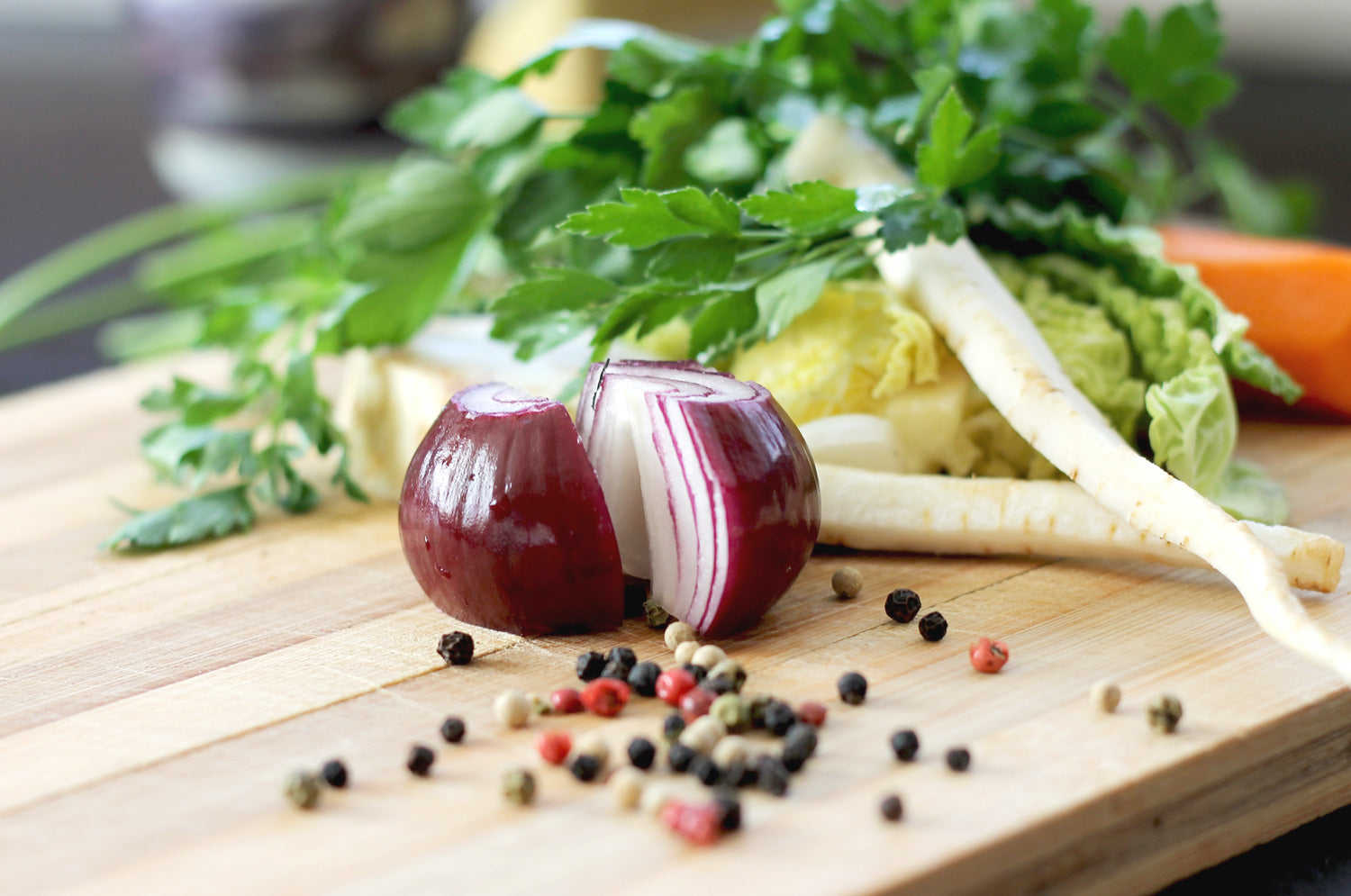 Our easy side dish recipes are great for any occasion whether you're going to picnic at the park or host a formal holiday dinner. Each recipe uses our healthy, flavorful nuts that add sophistication to any meal. We hope you enjoy these plant-based side dishes as much as our friends and family have!

Even if you're an enthusiastic carnivore, you have to admit: everyone needs a few go-to vegetarian side dish recipes. These recipes make balancing your diet easy on time-strapped weeknights, yet they're still impressive enough to serve for guests. Adding Santé Nuts to the mix boosts these vegetarian side dishes with a hit of heart-healthy protein, a ton of crunch, and a jolt of flavor — you'll want to sprinkle them on everything.

When the days begin to shorten and the air gets a little chilly, we start craving earthy root vegetables. That's why we love this recipe for roasted beet, sweet potato and parsnip salad with Sweet and Spicy Pecans. The goat cheese brings out the natural sweetness of the roasted beets, sweet potato, and parsnips, and our sweet and spicy pecans add a light and buttery crunch. The sherry vinaigrette adds a bright finish and the nuts a sweet and spicy crunch to the dish. Keep this roasted root vegetable salad recipe tucked away for a rainy day, but honestly, it'll still taste great when the sun is shining. Add as a side of a grilled chicken breast, salmon fillet, or sliced roast pork loin to make this a perfect meal.


Roasting carrots concentrates their earthy flavor and enhances their natural sweetness. Here, we've taken things a step further by adding butter, which browns in the heat of the oven, and honey, which gives the outside of the carrots a golden, caramelized crust. Then we top it with a sprinkling of chopped Candied Pecans. It's one of the simplest side dishes around, but the flavors are so rich you'd never know.
In this delicious gluten-free crostini dish, roasted sweet potato rounds stand in for what would typically be bread. This sweet potato, apple, and brie crostini recipe will make a savory and sweet appetizer for a Thanksgiving dinner party, but it's also spectacular as a nibble to pair with wine and serve at any get-together. Santé Nuts Candied Walnuts create the perfect crunchy complement to earthy sweet potatoes, tart honeycrisp apples, and gooey brie in this surprisingly easy crostini recipe.
Looking for a fast, delicious, but nutritious meal to throw together on busy weeknights? We've got you covered. We've zhuzhed up the standard deli kale and lentil salad recipe by adding our delectable Pumpkin Spice Pecans, sweet honeycrisp apples and creamy goat cheese. And if you need an easy make-ahead lunch for days when you want to brown-bag it, this kale and lentil salad with pecans and goat cheese recipe is your new best friend. Lentils and pecans are nutritional superheroes, beefing up the protein and fiber in this salad to keep you feeling full longer. This gorgeous kale and lentil salad recipe is also super easy to double, if you need an easy dinner party side dish. Protip: Save time by prepping the kale, radicchio, apples and chèvre while the lentils are cooking. Or if you're in a real pinch for time, you can use prewashed, bagged kale and ready-cooked lentils, available at better-stocked grocery stores.
Hello, you've just met your new favorite side dish. Our recipe for roasted cabbage wedges with pecan crumble is dead simple and so satisfying that you'll want to trot it out for every holiday. Roasting brings out the earthy-sweetness of cabbage, and textural contrast is provided by our Sweet and Spicy Pecans, transforming this humble crucifer into something ethereal. This easy roasted cabbage recipe comes together in a snap, requiring less than ten minutes of active time in the kitchen. The sweet and spicy pecan crumble is extremely versatile, so feel free to sprinkle it on other roasted vegetables as well. This roasted cabbage recipe is a good make-ahead side for busy holiday meals.
Santé's Sweet Dessert Recipes
While you'll be everyone's favorite person with one of our easy vegetarian side dish recipes, you can become their BFF by serving any of our favorite sweet dishes that are the perfect last bite for any meal.

Whether or not you treat a bake sale like a competitive sport is up to you, but anyone who takes their dessert game even a little bit seriously will want Santé Candied Nuts at the ready. Fix your favorite main dish, add one of our easy vegetarian side dishes, and then cap it all off with one of these decadent, nutty dessert recipes — heart-healthy Santé Nuts belong at the table during every course.
A rich, dense banana bread is just the thing for a lazy Sunday brunch. The loaf is loaded with buttery banana flavor and the subtly sweet crunch of Santé Candied Walnuts. Serve it with softened butter or cream cheese for an even more decadent brunch treat.
Classic Southern-style butter pecan bars are ready for a creamy makeover. This cheesecake bar recipe might look fancy, but trust us, it's so much faster and easier than a regular cheesecake—no springform pan or bain marie required! And no need to dirty up plates and forks, so this cheesecake bar recipe is perfect for a party or casual get-together. They can also be cut into smaller portions, for perfect little bite-sized petit-fours. Best of all, we've already taken care of the hard part by candying the pecans. These gooey cheesecake bars can be made ahead, but we're warning you: they won't last long if you keep them around! This creamy and decadent butter pecan cheesecake bar recipe is quickly going to become a regular part of your dessert repertoire.
This pecan pie bread pudding with bourbon caramel recipe scratches five different itches at once. It's a crunchy, buttery pecan pie recipe; it's a bread pudding recipe; and it's a bourbon caramel sauce recipe all in one delectable dessert! Best yet, it's in adorable single servings that bake up in a fraction of the time it takes to cook a pecan pie or bread pudding. You'll want to break these out any time you have a cookout. Or just make them to enjoy on your porch with a Sazerac or a mint julep.
Bourbon, peaches, and pecans: besides Dolly Parton, they're the three best things the South has to offer. You might think there's no better taste of summer than grilled peaches, but we've found a way to make it even better. This grilled brown butter and bourbon peaches recipe is utterly delectable with vanilla ice cream and our buttery Candied Pecans on top, but you could also have it for breakfast (hey, it's fruit!)— just sub the ice cream for a scoop of Greek yogurt. It makes the ideal dessert for a real Southern-style barbecue. When you have a grilled peaches recipe like this one, you'll be looking for any excuse to fire up your grill.