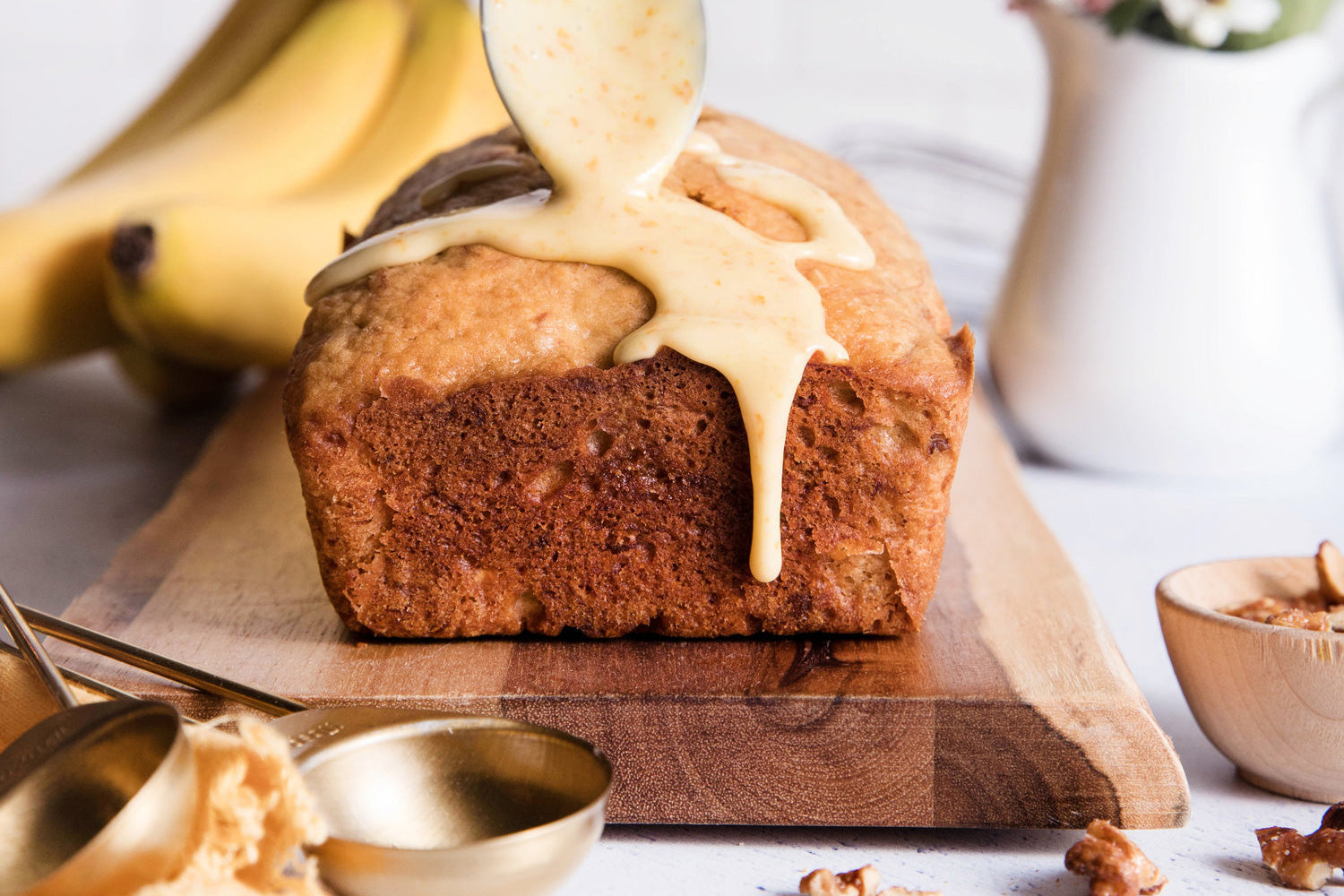 A rich, dense banana bread is just the thing for a lazy Sunday brunch. The loaf is loaded with buttery banana flavor and the subtly sweet crunch of Santé Nuts Candied Walnuts. Serve it with softened butter or cream cheese for an even more decadent brunch treat.
Prep Time: 25 minutes
Cook Time: 1 hour
Servings: 8

Ingredients:
1½ cups all-purpose flour
1½ teaspoons baking powder
½ teaspoon fine sea salt
⅓ cup sugar
⅓ cup packed brown sugar
6 tablespoons butter, softened
1 teaspoon vanilla
2 large eggs
1 cup mashed ripe banana (from about 3 bananas)
To Finish:
For the Glaze:
1¼ cups powdered sugar
2 tablespoons bourbon
1/2 teaspoon vanilla
Finely grated zest of 1 orange
1/3 cup up chopped Santé Nuts Candied Walnuts
Directions
Preheat the oven to 350℉. Spray a 9 x 5" loaf pan with baking spray and line with parchment paper so the paper extends over the 2 long sides of the pan.


In a medium bowl whisk to combine flour, baking powder, and salt.


In a large bowl or the bowl of a stand mixer with the paddle attachment, beat together sugar, brown sugar, and butter until light and fluffy. Beat in vanilla. Beat in eggs 1 at a time, then beat in banana.


Add flour mixture and stir just until combined, then stir in walnuts.


Scrape batter into prepared pan and bake until a toothpick inserted in the center comes out clean or with moist crumbs attached, about 1 hour. Let cool 15 minutes in the pan on a rack, then use overhanging parchment to lift bread out of pan. Cool completely on the rack.


In a medium bowl whisk to combine powdered sugar, bourbon, vanilla, and orange zest until smooth. Pour glaze over cake and sprinkle with walnuts. Let set 5 minutes, then slice.