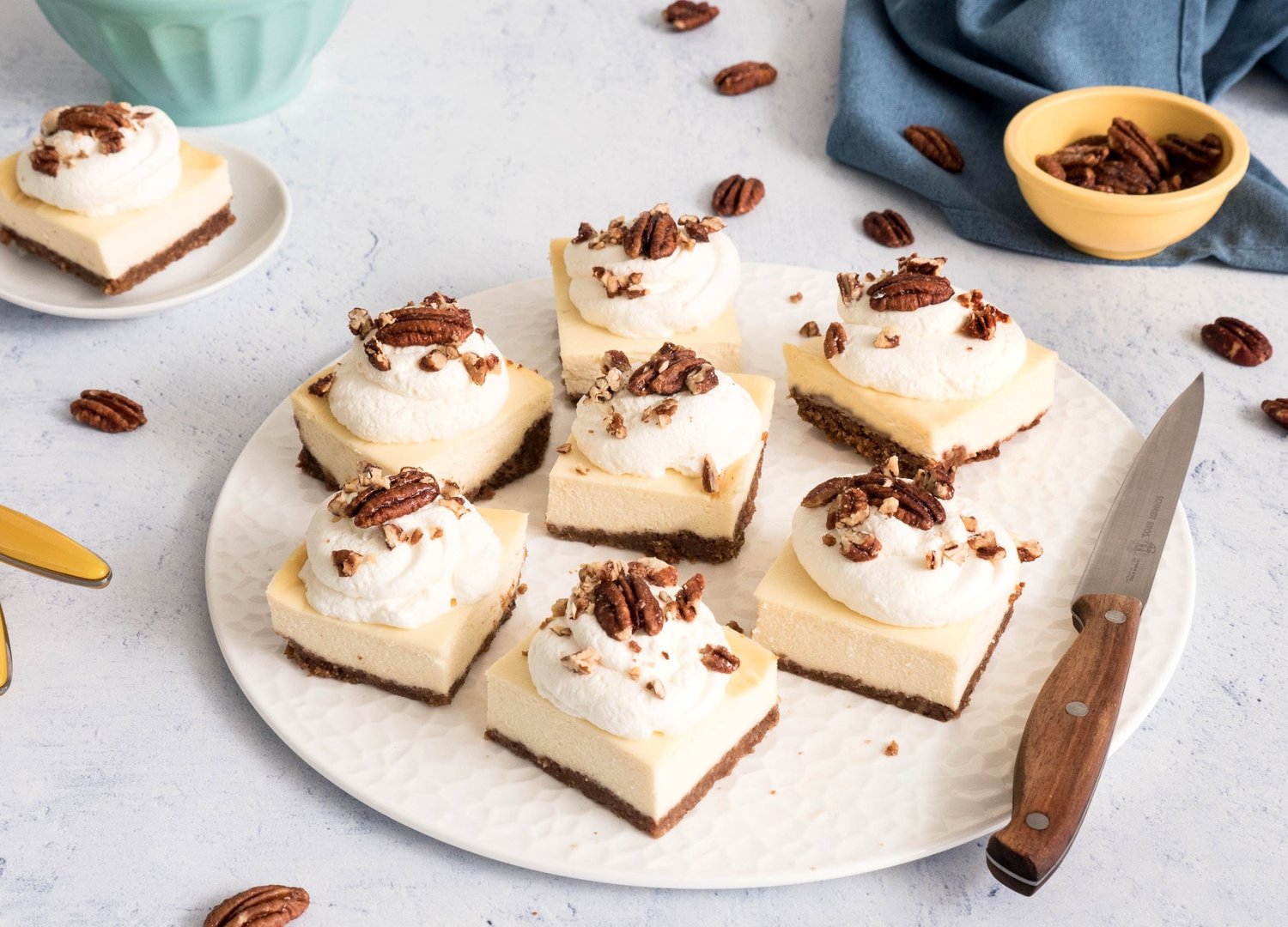 Classic Southern-style butter pecan bars are ready for a creamy makeover. This cheesecake bar recipe might look fancy, but trust us, it's so much faster and easier than a regular cheesecake—no springform pan or bain marie (also known as a water bath) required! And no need to dirty up plates and forks, so this cheesecake bar recipe is perfect for a party or casual get-together. They can also be cut into smaller portions, for perfect little bite-sized petit-fours. Best of all, we've already taken care of the hard part by candying the pecans. These gooey cheesecake bars can be made ahead, but we're warning you: they won't last long if you keep them around! This creamy and decadent butter pecan cheesecake bar recipe is quickly going to become a regular part of your dessert repertoire.
Prep time: 15 minutes
Cook time: 1 hour
Total time: 3 hours 15 minutes (includes two hours chilling time)

Servings/Yield: 6 Servings
Ingredients:
For Crust:
1 cup Santé Candied Pecans
½ cup graham cracker crumbs
3 tablespoons sugar
¼ teaspoon fine sea salt
¼ cup unsalted butter
For Filling:
1 pound cream cheese, softened
2 large eggs
⅓ cup sugar
¼ cup heavy cream
2 teaspoons vanilla
For Topping:
Directions:
Preheat oven to 350

°F

. Line an 8 or 9" square baking pan with parchment paper so it extends over 2 sides.


In a food processor pulse pecans until finely ground. Transfer to a bowl and add graham cracker crumbs, sugar, and salt and stir to combine.


In a small skillet melt butter over medium heat. Cook, swirling the pan from time to time, until butter is fragrant and browned. Pour into bowl with crumbs and stir to combine. Press mixture evenly into pan.


Bake crust until browned and set, about 15 minutes, the reduce oven temperature to 300

°F

.


Meanwhile, in a large bowl beat together cream cheese, eggs, sugar, cream and vanilla until very smooth. Pour over crust and place in oven. Bake until filling is set and a toothpick inserted into the center comes out clean, 30-40 minutes.


Let cheesecake cool completely at room temperature, then chill for at least 2 and up to 8 hours.


In a large bowl beat cream with sugar until well-whipped. Spread evenly over cheesecake. Garnish with pecans. Cut into bars and serve immediately.