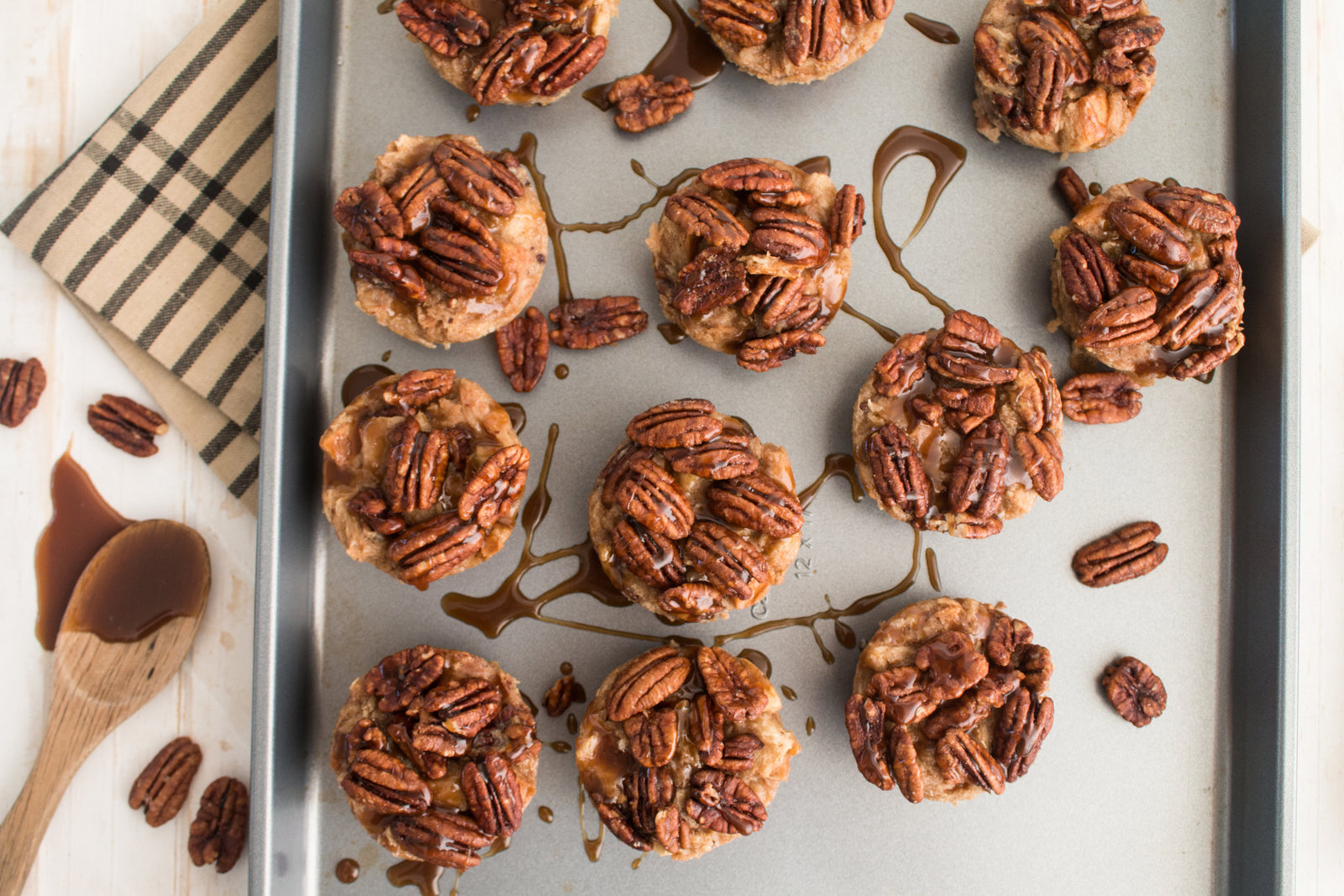 This pecan pie bread pudding with bourbon caramel recipe scratches five different itches at once. It's a crunchy, buttery pecan pie recipe; it's a bread pudding recipe; and it's a bourbon caramel sauce recipe all in one delectable dessert! Best yet, it's in adorable single servings that bake up in a fraction of the time it takes to cook a pecan pie or bread pudding. You'll want to break these out any time you have a cookout— the Candied Pecan topping makes these the ideal dessert for a dishes like smoked chicken or baby back ribs. 
Prep time: 10 minutes
Cook time: 20 minutes
Total time: 30 minutes
Servings/Yield: 12 Servings
Ingredients:
5 cups ½" stale French bread, challah, or brioche cubes
2 bags (8 ounces) Santé Candied Pecans, divided
4 tablespoons butter, melted, plus more for greasing pan
2 cups half and half
3 eggs
½ cup brown sugar
1 teaspoon cinnamon
1 teaspoon vanilla
¼ teaspoon nutmeg
For the bourbon caramel:
½ cup brown sugar
⅓ cup heavy cream
1 tablespoon bourbon
Directions:
Preheat oven to 325

°F

. Butter a 12-cup muffin tin.


In a large bowl toss together bread, half the pecans, butter, half and half, eggs, sugar, cinnamon, vanilla, and nutmeg. Divide mixture between muffin cups, filling them ¾ full, and top with remaining Candied Pecans.


Bake until browned and set, about 20 minutes.


Meanwhile, make caramel. In a small saucepan combine sugar and cream. Bring to a boil and boil 3 minutes. Remove from heat and stir in bourbon.


Serve bread puddings warm, drizzled with caramel.