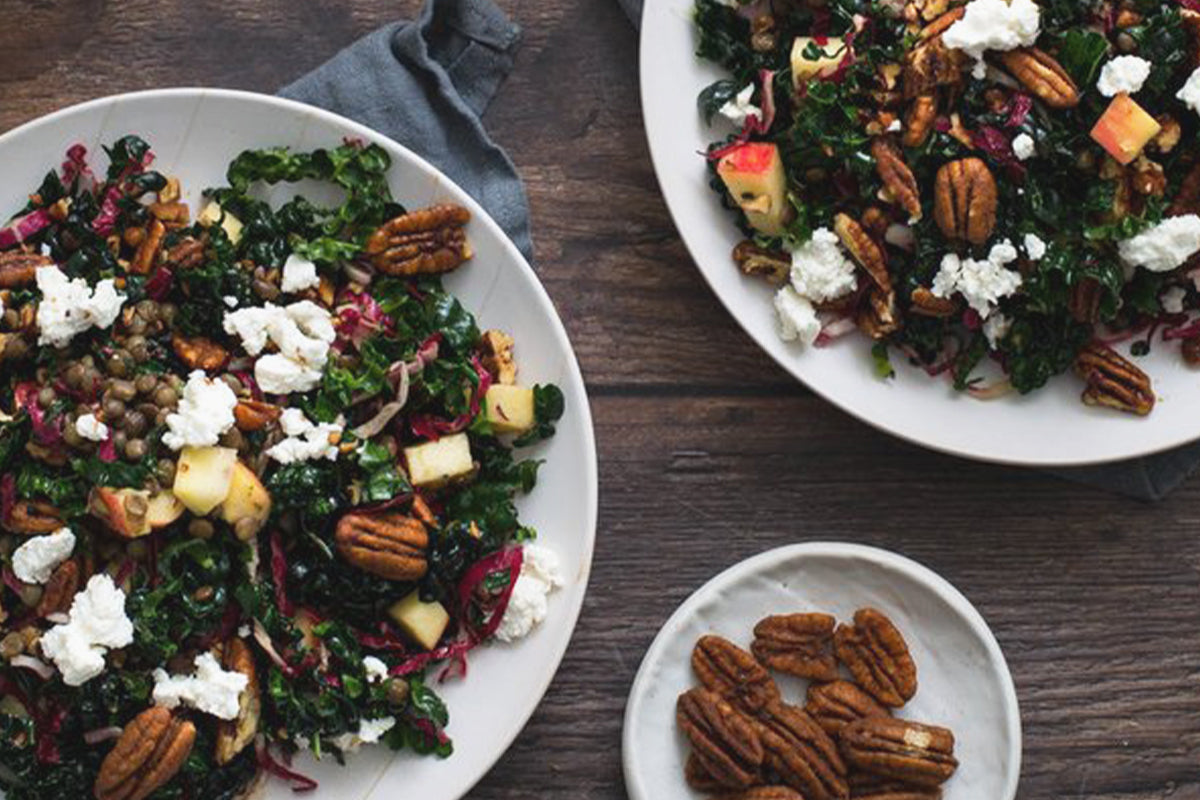 Fall is here and we're ready for cozy dishes highlighting the best of fresh fall produce. We rounded up our favorite fall recipes featuring squashes, dark leafy greens, root vegetables, and of course, nuts! These Autumn inspired dishes are great as part of a holiday entertaining menu or as the main star of a simple weeknight meal. Every recipe is vegetarian, but can be paired with any winter roast. Scroll through for six of our favorite vegetarian sides and salads for fall. 
Sides
Roasted Brussels Sprouts and Butternut Squash with Spicy Pecans

This veggie dish is a perfect side for the holiday table. Our
Sweet & Spicy Pecans
add a touch of heat and a kick of crunch to these savory fall vegetables.
Get the recipe
.
Honey Glazed Carrots with Candied Pecans

Roasting carrots at a high temperature concentrates their earthy flavor and natural sweetness. We add extra richness with a handful of chopped
Candied Pecans
and a drizzle of honey.
Get the recipe
.
Charred Broccolini with Burrata

Fresh broccolini, crisped up on a hot skillet for a deliciously charred, smoky flavor.
Get the recipe
. 
Salads
Kale and Lentil Salad with Pecans and Goat Cheese
Our elevated take on the standard deli kale and lentil salad recipe. We added our delectable Pumpkin Spice Pecans, sweet honeycrisp apples and creamy goat cheese. Get the recipe.
Roasted Beet Sweet Potato Parsnip Salad with Sweet and Spicy Pecans
For a time-saving post-holiday meal, you can even make this salad with leftover roasted veggies. The bright dressing is great for perking up pre-roasted veggies. Get the recipe.
Arugula and Walnut Salad with Date Dressing
This sweet and tart dressing is excellent on simple greens, but can be a great addition to hearty salads. Our Candied Walnuts pair wonderfully with the brightness of the dressing. Get the recipe.