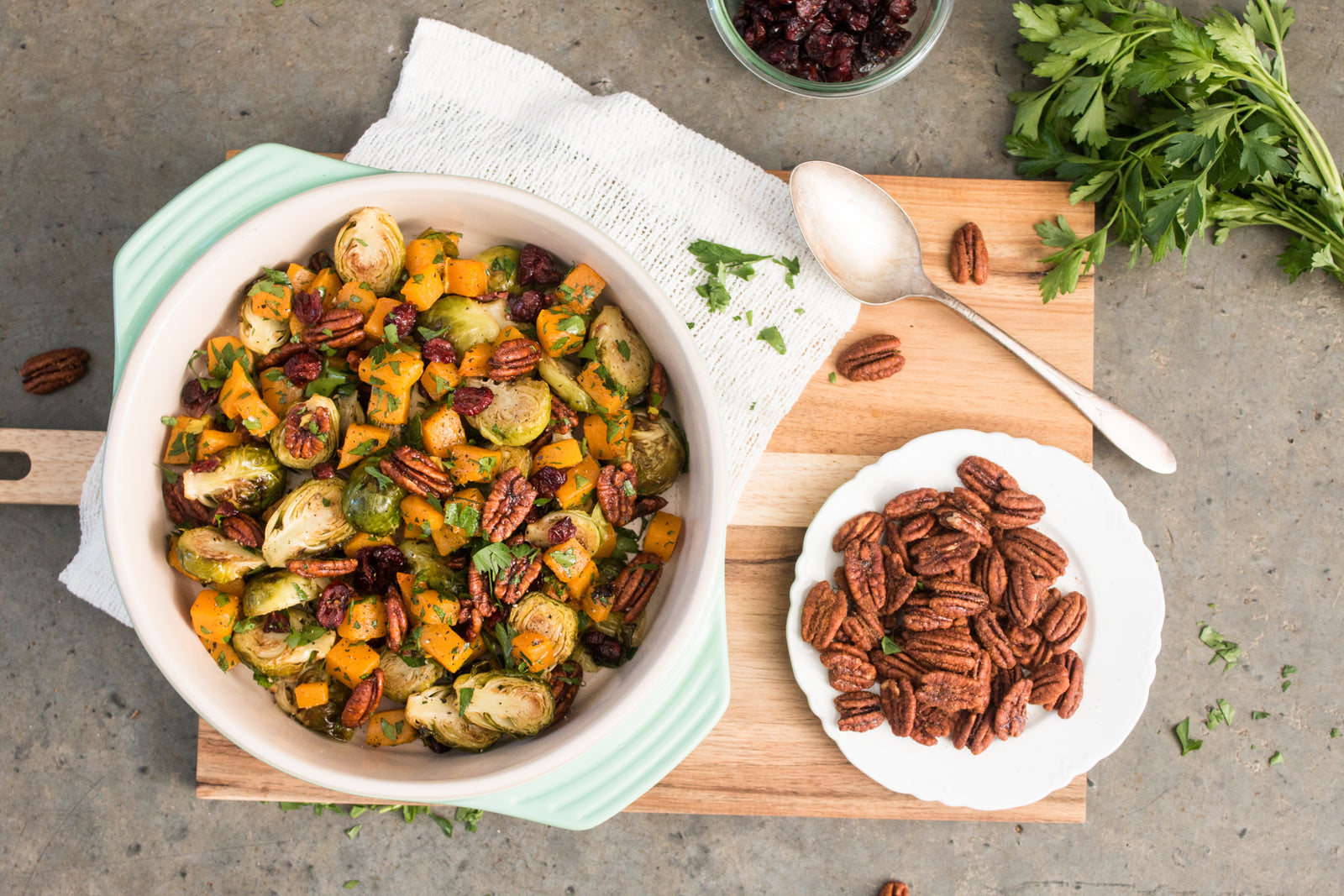 This savory and hearty vegetarian side dish is a simple recipe that's easy to make on any weekend, but attractive enough to have a place at your holiday table. This recipe for roasted brussels sprouts and butternut squash with spicy pecans takes everything you love about savory roasted vegetables and gives it a kick of crunch and heat with our Sweet & Spicy Pecans. Throw a pan of this in the oven when you're roasting a chicken or a pork loin, and dinner practically cooks itself. A solid roasted butternut squash recipe like this can also dress up a basic rice pilaf for a meatless meal that's sure to satisfy. 
Prep time: 20 minutes
Cook time: 25 minutes
Total time: 45 minutes
Servings/Yield: 8 Servings
INGREDIENTS:
1 pound Brussels sprouts, halved
1 large butternut squash, peeled, seeded, and diced into ½" cubes
2 tablespoons olive oil
1 teaspoon fine sea salt
½ teaspoon black pepper
½ cup dried cranberries
⅓ cup roughly chopped parsley
1 bag (4 ounces) Santé Sweet & Spicy Pecans
DIRECTIONS:
Preheat oven to 400°F
On a large baking sheet toss together Brussels sprouts, squash, oil, salt, and pepper and spread out in a single layer. Roast until tender and golden brown, about 25 minutes.
Transfer roasted vegetables to a serving dish and toss with cranberries, parsley, and pecans. Serve warm or at room temperature.