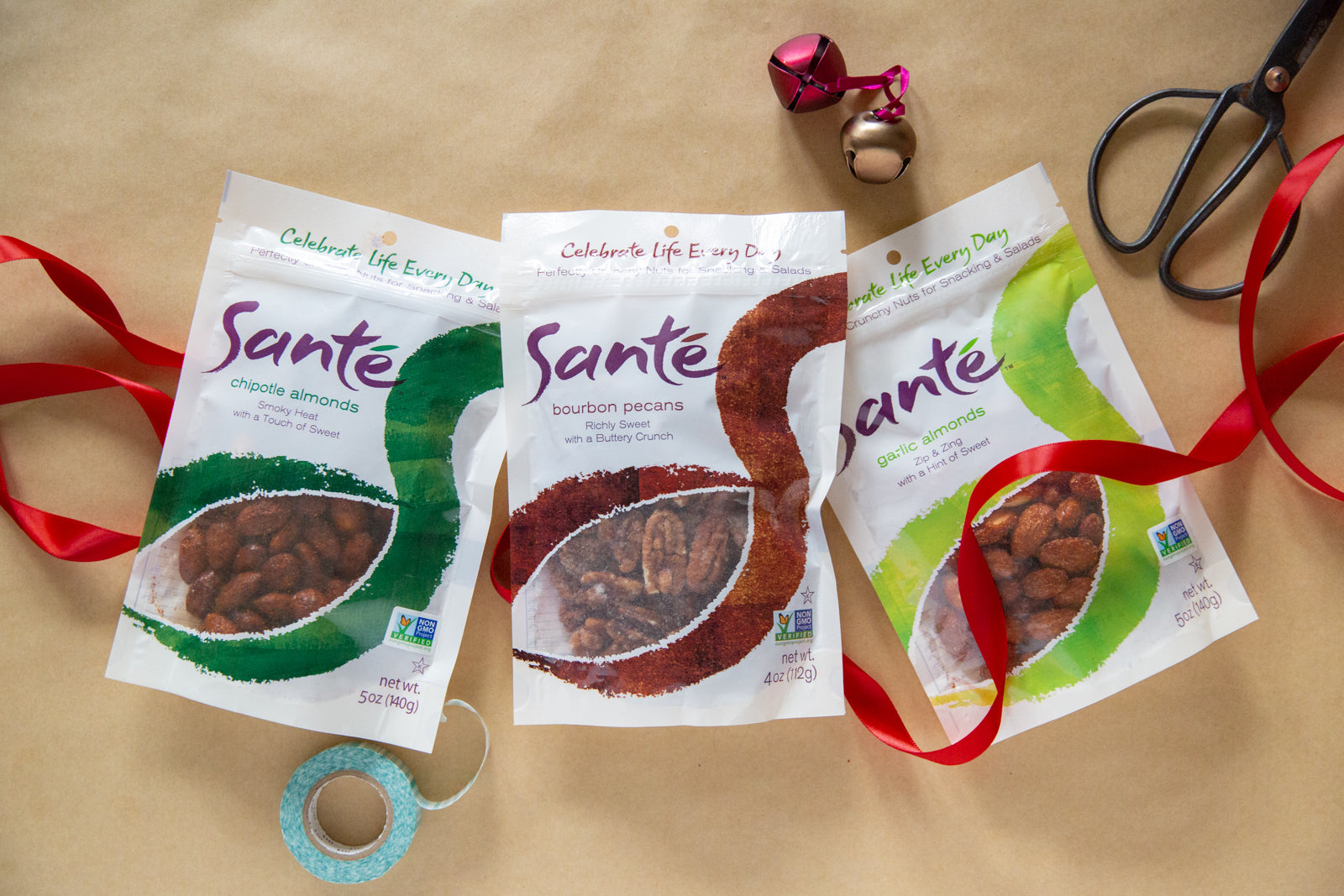 Need gift ideas for the food lovers in your life?  Sweet, spice, and everything nice — read on for some of our favorite gifts! Whether they have a sweet tooth or prefer some heat, we've got crave-worthy holiday gift ideas for foodies.
Sweet
Any known foodie who likes sweets has probably been gifted their share of chocolate truffles and gourmet cookies. Here are a few unique ideas that might actually surprise the sweets lover in your life.
The Bonne Maman brand is known for using whole ingredients to make some intense fruit preserves, but their Chestnut Spread shouldn't be overlooked. More common in France than the US, chestnut spread is sweet, nutty, creamy, and delightful. It can be spread on toast, spooned on some ice cream, or used as a topping for pancakes. I've also known people to eat it by the spoonful for a truly sweet treat.

I love the taste of fresh figs, but candied ones are my favorite. They usually come whole in syrup and are incredibly sweet. They make a great addition to salad dressings, used as a topping for desserts, or cut up and spread on toast with butter. Sweet, creamy, and delicious, they make a unique indulgent treat.

Santé

Bourbon Pecans are the sweetest nut we make. The bourbon mixed with the caramelized sugar is similar to praline or English toffee, but without the stickiness. This lends a richness to the pecan that brings to mind holidays by the fire and sticky morning buns. They taste great straight out of the bag and can also be used as a toping on pumpkin pie, shortbread cookies, ice cream, and any other dessert your food lover enjoys.
For a mix of candied nuts, gift the 

Santé

 Sweet Variety Pack! This pack includes our sweetest almond, pecan, and walnut flavors. 
Savory
Usually associated with saltiness or umami, savory flavors can come in a lot of different forms. Any ingredient that can be used to enhance an everyday dish or elevate a gourmet meal is a great gift in my book.
Aged balsamic

If you've read my post on pantry staples you already know I love a good vinegar. I think balsamic is a truly magical addition to savory dishes. A good aged balsamic will come from Italy and be at least slightly viscous. It's sweet, savory, full of umami, and adds depth to any dish. Anyone who likes to cook will love adding this to roasted vegetables, sauces, or red meat dishes. If you can find it, get it. Your food lover will love you for it.

Fennel Pollen

One of those seasonings that's often overlooked, fennel pollen tastes milder than fennel seeds with a unique natural earthy sweetness. I started using it in my savory dishes last fall and can't get enough. It pairs really well with so many dishes,  adding a lovely mild licorice note. Your food lover can try it on meat dishes including lamb and pork or vegetable dishes including asparagus, poached eggs, or carrots. If they haven't tried it before, they'll love you for introducing this amazing ingredient into their kitchen.

Santé

 

Garlic Almonds are our most savory nut. With a hint of cayenne and balanced garlic with black pepper, it's a snack that's sure to please anyone looking for a savory treat. Garlic Almonds are also great to have as a topping on savory dishes. Crushed up on top of an avocado toast or some roasted squash, they're a great way of adding a little zing to an everyday dish.
Spice
When we love spice, we love that it hurts so good. There's something about the way spicy flavors build up on your palette, going from a tingle to an inferno, that appeals to a certain type of person. Personally, I like to add a little heat to every meal, just to keep life interesting.
Espelette

Most people I know haven't tried espelette, and it's a real shame. This pepper is grown in the Basque region and has a hot, sweet, and very slightly smoky kick. It tastes a little like a cross between cayenne and paprika but really you just have to try it. My whole family fell in love with espelette when we discovered it and now we use it on almost everything. It's great with roasted vegetable, on sweet potatoes, and with eggs. It also does wonders to almost any sauce when just lightly sprinkled right at the end.

Calabrian Chili Paste

I love a good chili paste, but this one holds a special place in my heart. This bold chili paste is made from Calabrian chilis which are grown in Italy and pack some punch. Your spice lover will need to enjoy some heat to appreciate it, but adding this chili paste to soups, pastas, meat loafs, and sandwiches will make any dish deliciously unique.

The great thing about

Santé

 

Chipotle Almonds is its balanced recipe. Chipotle powder gives them depth, ancho gives them smokiness, cayenne gives them heat, pasilla brings a peppery sweetness, and paprika to round it all out. The spice builds up slowly as you snack on them, but never gets overwhelming. They're a great treat when you want some heat and can also be crushed and used as a topping on slaws or salads.
Shop all our flavors and variety packs for this holiday gifting season!