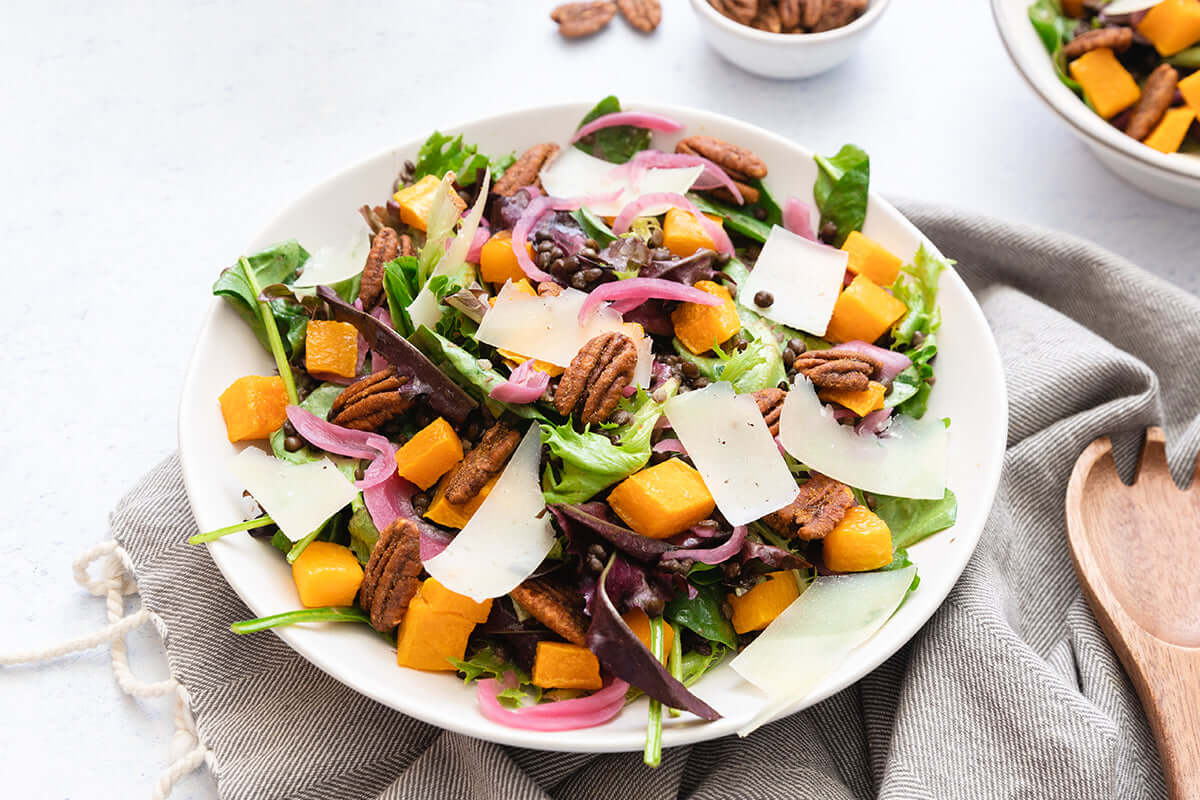 This dish is a love letter to those of us who have a complicated relationship with salad. Made with tender greens piled high with sweet roasted squash, hearty lentils, peppery manchego, zesty pickled onions, and rich, slightly spicy Santé pecans, this salad is loaded with complex flavors and textures to ensure that no bite is boring.
Yield: 4 servings
Ingredients
For Roasted Squash:
1 medium butternut squash, peeled, seeded, and cut into 1" cubes
2 tablespoons vegetable oil
½ teaspoon fine sea salt
For Lentils:
½ cup beluga lentils
½ teaspoon fine sea salt
For Pickled Onion:
1 red onion, thinly sliced
1 cup apple cider vinegar
1 teaspoon fine sea salt
For Vinaigrette:
3 tablespoons apple cider vinegar
1 tablespoon Dijon mustard
1 garlic clove, minced
½ teaspoon fine sea salt
¼ teaspoon black pepper
½ cup extra-virgin olive oil
For Salad:
5oz spring mix (about 4 packed cups)
3oz manchego, cut into wide shavings with a vegetable peeler
Directions
Preheat oven to 425°F.
On a large baking sheet, toss squash with oil and salt. Roast, stirring occasionally, until tender and browned, about 30 minutes.
While squash roasts, in a medium saucepan combine lentils, salt, and 2 cups water. Bring to a boil, then reduce heat to simmer, covered, until lentils are tender, about 25 minutes. Drain off any remaining water.
While squash and lentils cook, in a medium saucepan combine onion, vinegar, and salt. Bring to a boil, then reduce heat slightly to simmer 3 minutes. Take off heat and stir in 4 ice cubes. Set aside.
In a jar with a tight-fitting lid combine vinegar, mustard, garlic, salt, pepper, and oil. Shake vigorously to combine.
In a large bowl toss greens and lentils with dressing to taste. Arrange greens and lentils on a platter. Top with drained pickled onion, manchego, squash, and pecans.