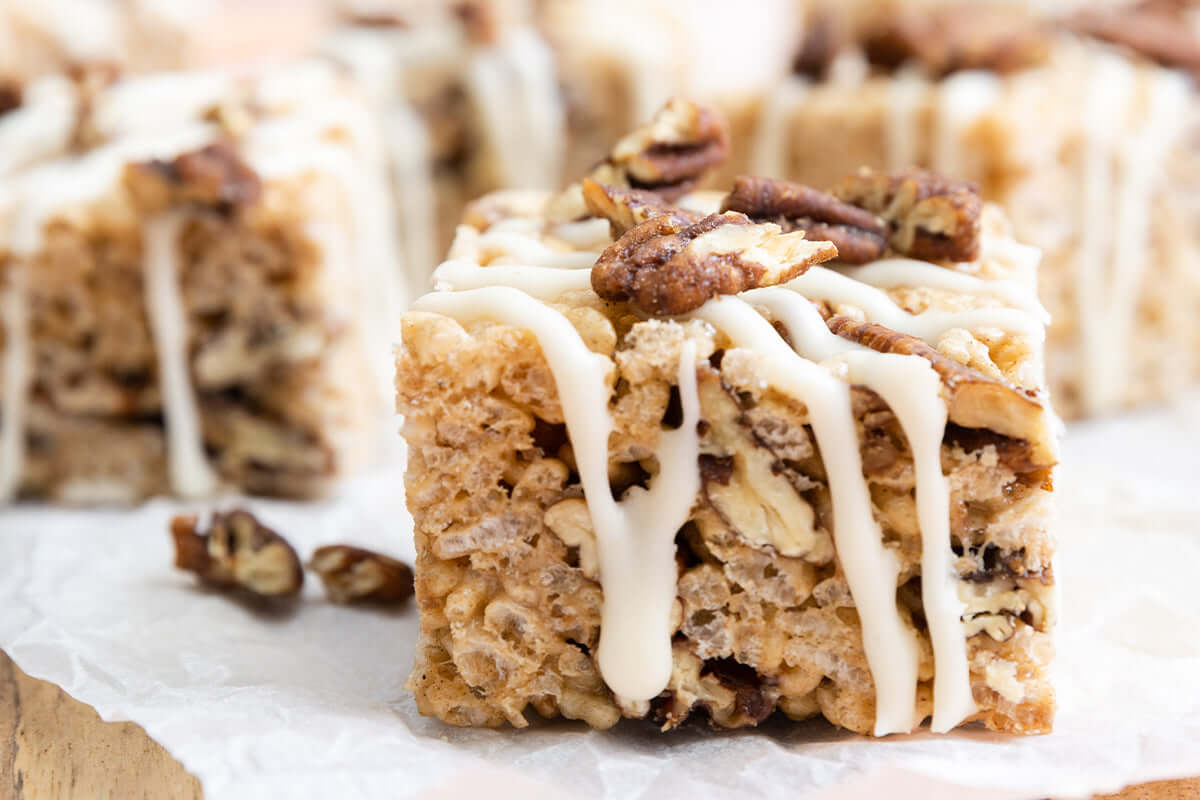 Brown butter makes everything better, and these spiced fall treats are no exception. Whether you want to be the star of the bake sale or are just looking to make a sophisticated version of a favorite childhood snack, this recipe will be your guide. Plus, our Pumpkin Spice Pecans add a serving of plant-based protein to this gluten-free dessert snack.
Yield: 9 crispy rice treats
Ingredients
For Crispy Rice Treats:
4 tablespoons butter
4 cups miniature marshmallows
1½ teaspoons ground cinnamon
1 teaspoon ground ginger
½ teaspoon ground allspice
5 cups crisp rice cereal
For Brown Butter Icing:
6 tablespoons butter
1¼ cups powdered sugar, sifted
1 teaspoon vanilla
Milk or cream as needed
Directions
Butter 8" square baking dish.
In a large saucepan over medium heat, melt butter. Continue to cook butter, swirling the pan occasionally. The butter will sizzle and then start to foam. When it smells nutty and there are brown bits on bottom of pan, add marshmallows, cinnamon, ginger, and allspice.
Cook, stirring frequently, until marshmallows are melted. Remove from heat and stir in cereal and pecans.
Scrape mixture into prepared dish and spread evenly, pressing it into the corners. Let cool completely.
For icing, in a medium saucepan over medium heat, melt butter. Allow butter to brown as in step 2. Scrape butter and any brown bits into a medium bowl and let cool until just warm. Stir in powdered sugar and vanilla. If icing is too thick to drizzle, add a little milk or cream until it reaches a pourable but still thick consistency.
Drizzle crispy rice treats with icing and sprinkle with additional pecans. Cut into 9 squares.