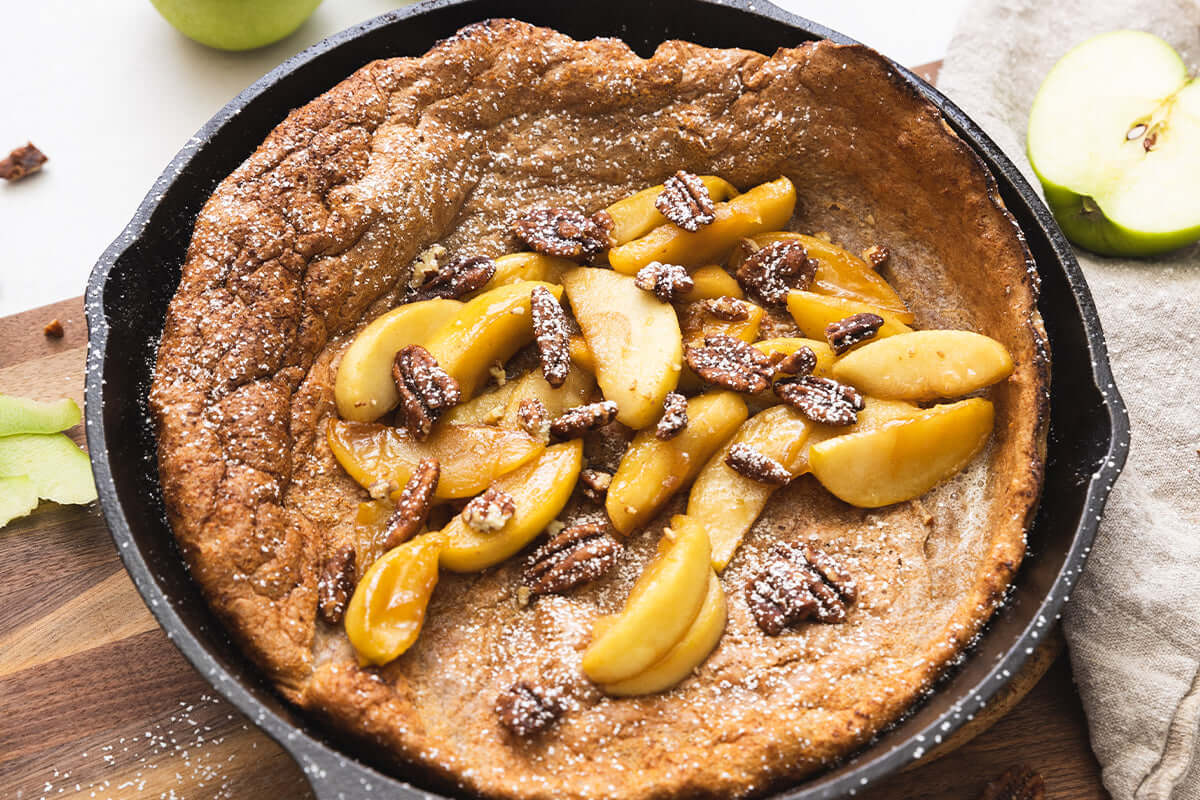 Dutch babies, also called puff pancakes, are as stunning to behold as they are delicious. They are usually served dusted with powdered sugar and sprinkled with lemon juice, but we like to take a seasonal approach. For a fall brunch, we can't imagine anything better than a Dutch baby infused with warm spices and topped with tender sautéed apples and our exquisite Pumpkin Spice Pecans. If desired, 2 teaspoons pumpkin pie spice may be substituted for the spice mixture in the recipe.
Yield: 4 servings
Ingredients
For the batter:
½ cup all-purpose flour
1 teaspoon ground cinnamon
½ teaspoon ground ginger
¼ teaspoon ground nutmeg
¼ teaspoon ground allspice
⅛ teaspoon ground cloves
½ cup whole milk
2 large eggs
¼ teaspoon fine sea salt
4 tablespoons butter
For Sautéed Apples:
2 tablespoons butter
2 Granny Smith apples, peeled, cored, and sliced
2 tablespoons brown sugar
¼ teaspoon fine sea salt
Toppings:
Powdered sugar
lemon juice, optional
Directions
Set a rack in the lower ⅓ of the oven and preheat oven to 425°F.
In a medium bowl whisk to combine flour, cinnamon, ginger, nutmeg, allspice, and cloves. In a liquid measuring cup, combine milk, eggs, and salt, then whisk to combine.
Whisk milk mixture into flour mixture until smooth.
In a 10" cast-iron skillet, melt butter over medium heat. Tilt pan to coat sides with butter and pour in batter. Transfer skillet to oven and bake 15 minutes. Lower heat to 350°F and bake until puffed and well browned, about 10 minutes more.
While pancake bakes, in a large skillet melt butter over medium heat. Add apples and stir until coated. Add sugar and salt and cook, stirring occasionally, until apples are tender and glazed with sugar-butter mixture.
To serve, spoon apples and any sauce over pancake, squeeze lemon juice (if using), sprinkle with pecans, and dust with powdered sugar. Serve immediately.