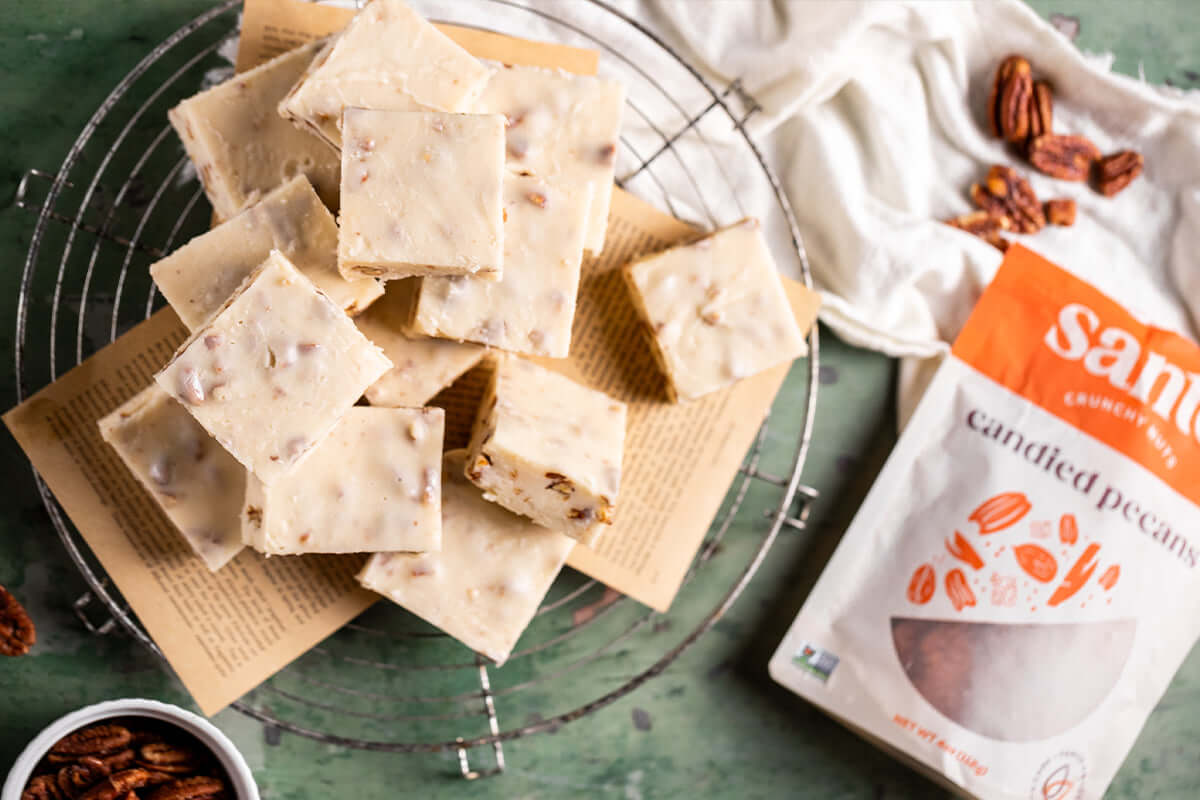 Each bite of this decadent butter fudge is packed with depths of rich flavor that leaves you wanting more. The Candied Pecans shine through to add a subtle, sweet crunch to the creamy fudge. The pecans compliment the flavors of the fudge beautifully and add the perfect crunch!
Ingredients
1 cup unsalted butter, cubed
1 cup + 1 tablespoon heavy whipping cream
1 2/3 cups cane sugar
1/3 cup brown sugar
1 teaspoon salt
2 1/2 teaspoons vanilla extract
3 cups powdered sugar, sifted
1 1/4 cups Santé Candied Pecans
Instructions
Grease an 8″ square pan, they lay parchment paper over the top and press down.
In a heavy-bottom saucepan, add the butter and allow to melt over medium-high heat.
Once melted, stir in the heavy cream until combined with the butter.
Next, pour in the cane sugar, brown sugar, and salt. Stir to combine, then bring to a boil over medium-high heat. Resist the urge to stir, and instead use a thermometer to monitor the temperature. Allow the mixture to boil for 4 minutes- the final temperature should be between 112-114 degrees Celsius.
Remove the saucepan from the heat and allow to cool to room temperature before adding the vanilla extract.
Ensure the powdered sugar is well sifted to avoid lumps. Then, pour half a cup to one cup in at a time, stirring between to incorporate before adding more. Continue until all of the powdered sugar is added.
Chop the candied pecans and add to the fudge batter. Use a spatula to fold in to combine.
Transfer to the prepared baking dish and smooth the top with the spatula.
Place in the refrigerator to chill for at least three hours.
After the allotted time, cut into 16 squares and enjoy!
Recipe by The Bottomless Pit featuring Candied Pecans.