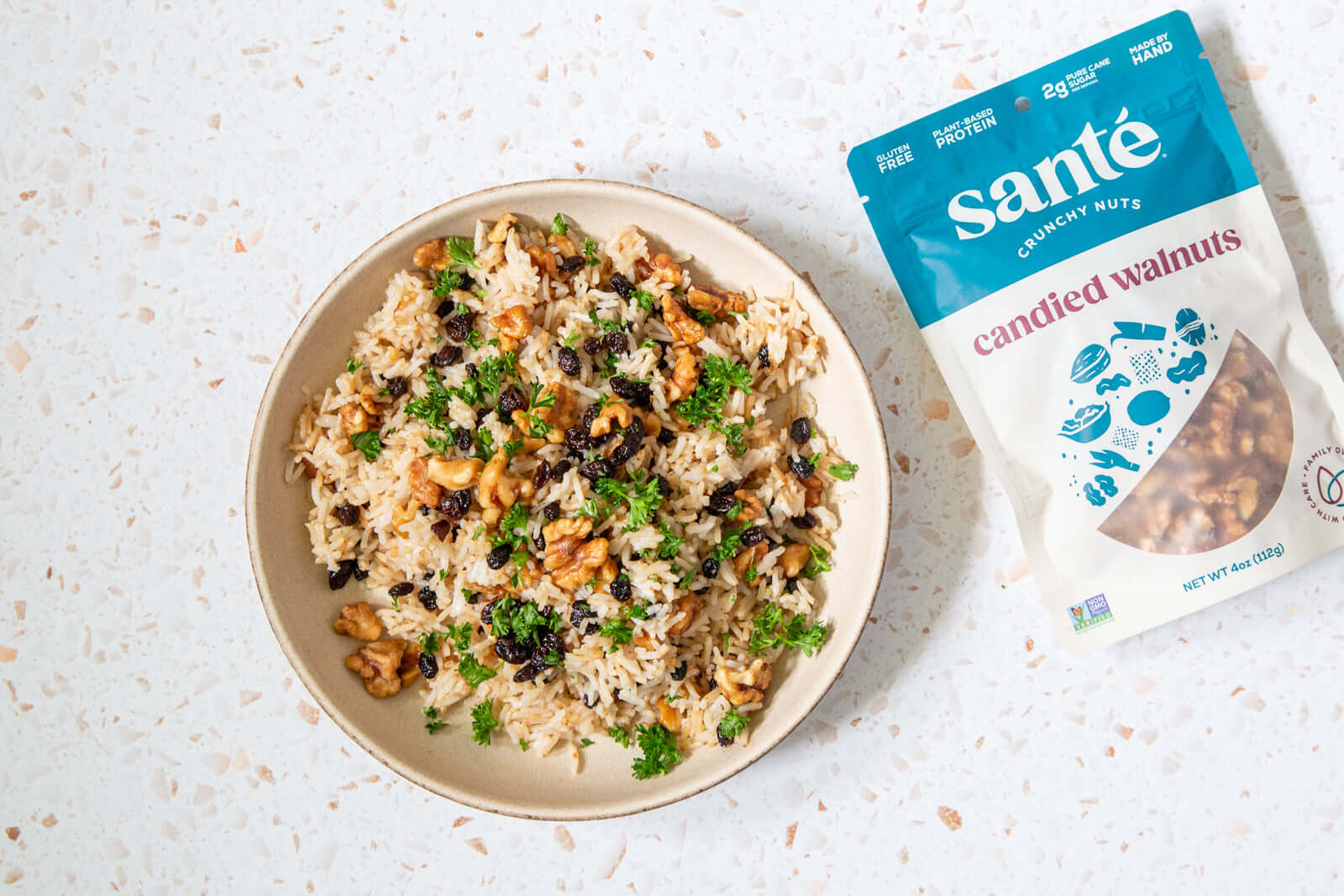 Passover is nearly here making me excited to be thinking about roasted lamb and matzo ball soup. Besides those staples my family always traditionally served a sweet rice pilaf as a side dish for any holiday. Basmati rice was always a common accompaniment in my grandmother's house. She'd cook some every Friday and usually eat it throughout the week. For food centered celebrations like Passover, she liked making everything more festive by adding toppings and other flavors. She'd often make rice with fried raisins and pine nuts to add sweetness to holiday meals. My mom and I have kept the tradition going and now holidays feel incomplete without this sweet rice dish.
My grandmother would always add some oil to the cooking water for rice to add flavor which, if you've never tried it, you're really missing out. Basmati rice unique nuttiness works really well in this dish. In this recipe I've adapted the original method to use red currants and Santé Candied Walnuts, a combination I think goes together perfectly. Frying the currants ahead plumps them up a bit making them practically melt in your mouth when you chew them and the Candied Walnuts bring a sweet crunch that pairs really well with the tart fruit. This rice is wonderful on its own and also makes a great addition with lamb for a really festive holiday table. It's one of my favorite side dishes and I really hope you give this method a try.
Ingredients
1 cup Basmati Rice
2 cups Water
5 tbs Canola Oil, divided
1 tsp Salt or to Taste
1/2 cup Dried Red Currants
1/2 cup Santé Candied Walnuts
Parsley to garnish (optional)
Directions
Add the water, salt, and 3 tablespoons of the oil to a small or medium sized pot with a lid on high heat. Bring to a simmer then add the rice, cover, and reduce the heat to low. Let cook for 20 minutes or until the rice is tender and the water has evaporated. 
Depending on your stove, you might need to adjust the heat to keep it to a bare simmer, but try not to open the lid or it'll really mess with the cooking time.
While the rice is cooking, add the remaining 2 tablespoons of oil into a small pan over medium heat. When the oil is hot, add the currants and mix well so they're coated with the oil. Fry the currants on medium to medium-high heat for a few minutes until they look plump and have browned slightly. Set aside.
When the rice has finished, open the lid of the pot and fluff the rice up with a fork. Mix in most, but not all of the Candied Walnuts and currants reserving some for final topping.
To serve, dish the rice into a serving bowl and top with the remaining currants and Candied Walnuts. Garnish with some parsley (optional) and serve.