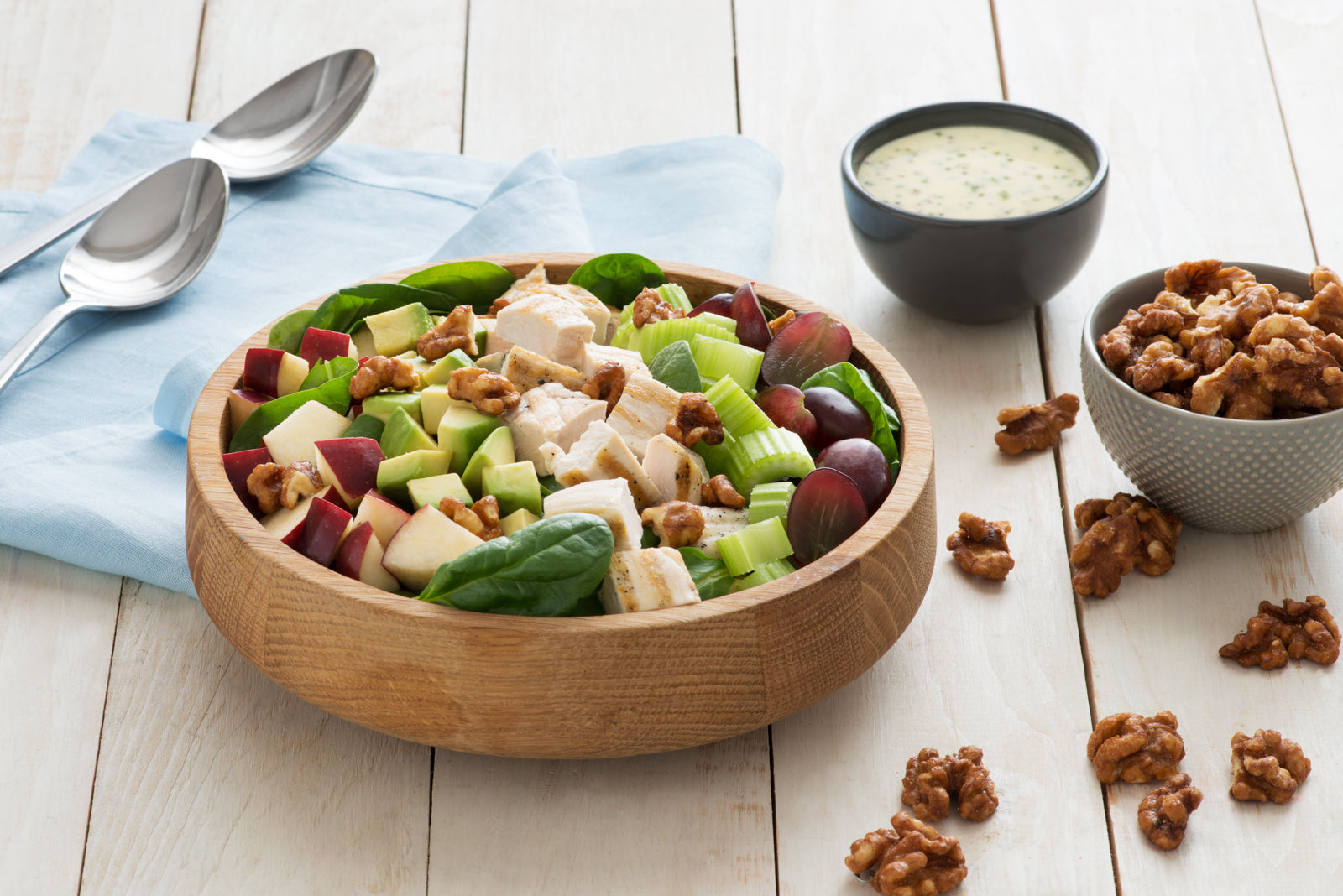 This protein and flavor-packed chicken salad recipe has everything you love about an old-school Waldorf salad, but we've cut the goopy mayonnaise with honey, mustard, apple cider vinegar and chives to make a creamy but not too heavy dressing. We also have the added sparkle of sweet and crunchy Santé Nuts Candied Walnuts. This grilled chicken salad with candied walnuts is a great recipe for when you need to pack a lunch for a spontaneous weekend picnic, and it makes a wonderful filling for a pita sandwich, for taking to work. Crisp celery and apples, juicy grapes, creamy avocado, and our Candied Walnuts breathe new life into a basic grilled chicken breast, and the creamy apple cider-chive dressing make this chicken salad recipe one you'll want to make again and again.
Prep time: 20 minutes
Cook time: 25 minutes
Total time: 45 minutes

Servings/Yield: 6-8 Servings
Ingredients:
For the Salad:
3 boneless skinless chicken breasts (about 1 lb)
1 tbl olive oil
1/2 tsp salt
1/4 tsp pepper
4 cups fresh baby spinach
2 stalks celery, sliced
1 apple, cubed
1/2 cup red grapes, halved
1 ripe avocado, peeled, pitted, and diced
1 package Santé Candied Walnuts

Apple Cider and Chive Dressing:
2 tbsp low-fat mayonnaise
2 tbsp apple cider vinegar
2 tbsp olive oil
1 tbsp chopped fresh chives
1 tsp whole grain mustard
1 tsp honey
1/4 tsp each salt and freshly ground pepper

Directions:
Whisk together mayonnaise, vinegar, oil, chives, mustard, honey, salt and pepper.


Preheat grill to medium-high heat; grease grate well. Toss chicken with oil and season with salt and pepper; grill for 5 to 7 minutes per side or until grill-marked and cooked through. Let rest for 10 minutes; cut into bite-size pieces.


Add chicken, spinach, celery, apple, grapes and avocado to large bowl; toss with Apple Cider and Chive Dressing. Toss with candied walnuts and serve.