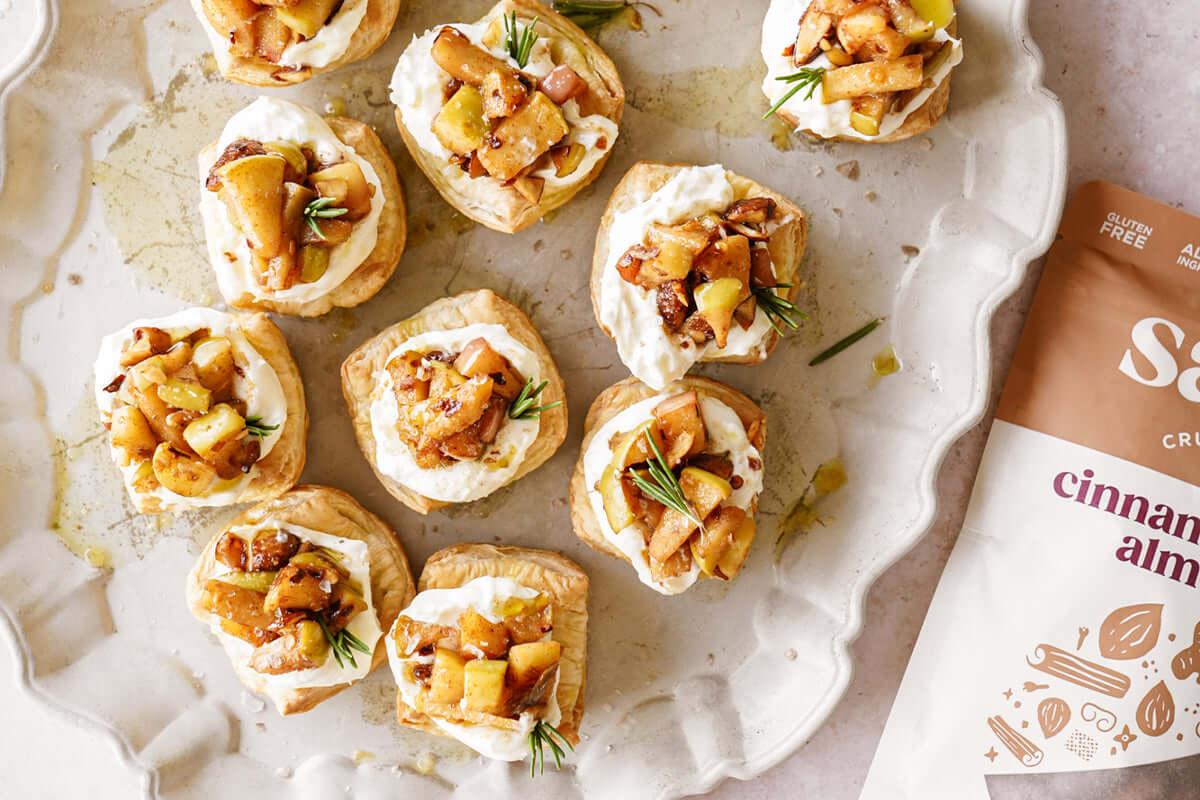 This easy mini cheesecake recipe topped with Cinnamon Spice Almonds and warm apples is the perfect recipe for entertaining. They are creamy and rich, with an easy puff pastry base and a warm and crunchy topping. These mini cheesecakes take the hard work out of making cheesecake but can still satisfy a crowd. They're the perfect bite-size dessert for any potluck or holiday dinner.
Ingredients:
1 sheet or square puff pastry, defrosted
Cooking oil spray
250 g cream cheese, softened to room temperature
1/3 cup plain greek yogurt
1/2 cup powdered sugar
1 tbsp butter
1 medium-sized firm apple, diced
1 tsp vanilla extract
1/2 cup Santé Cinnamon Spice Almonds, chopped
1/4-1/2 tsp chili flakes
Fresh rosemary, for garnish
Instructions:
Pre heat oven to 375°F and spray a 12-cup muffin tin with non stick cooking spray or grease with butter. Roll out the puff pastry sheet until you can roughly measure twelve squares (about 2-2 1/2 inches by 2-2 1/2 inches) and cut into 12 squares. Gently press one square of dough into each muffin tin and poke the bottom of each with the tines of a fork. Bake for 15-20 mins or until golden brown. Set aside to cool.
While the puff pastry is baking, start the apples. Add butter to a nonstick pan over medium heat. Add the diced apples and chili flakes to the pan and cook on medium low for about 5-10 minutes to soften. When the apples are almost done, add the Cinnamon Spice Almonds and cook a few more minutes. Set aside when done.
While the puff pastry is cooling, make the cheesecake filling. In a stand mixer or with a hand mixer, whip the cream cheese, yogurt together until smooth. Slowly add the powdered sugar and beat until smooth.
Once puff pastry is cooled, assemble the cheesecakes: spoon a heaping tablespoon of the cream cheese mixture onto each cooked puff pastry square; top with a tablespoon of cooled apple mixture (sort of gently press it into the cream cheese)
Drizzle each mini cheesecake with olive oil and garnish with fresh rosemary and additional nuts just before serving.
Recipe by Food by Maria featuring Santé Cinnamon Spice Almonds.