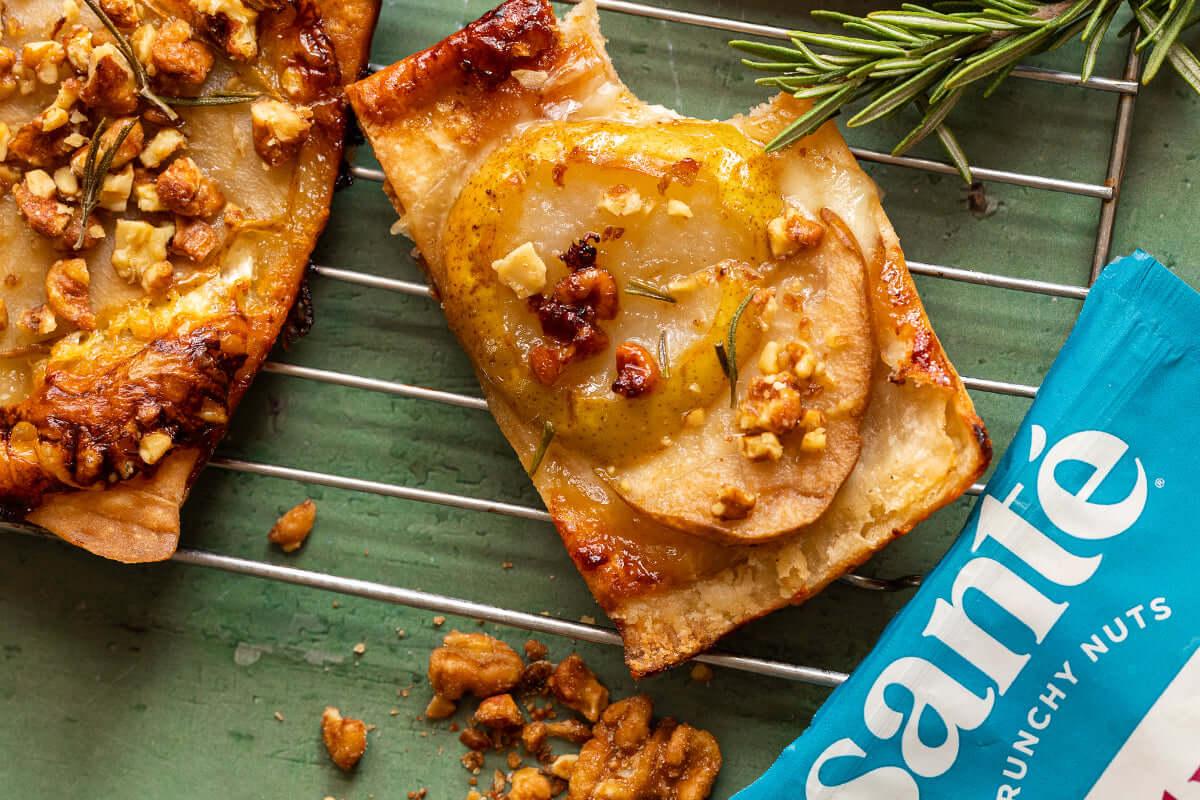 This recipe features ripe pears, honey, creamy brie cheese, fresh rosemary and candied walnuts. Combined, this gluten-free pear and walnut tart is the perfect savory baked good! It uses only five ingredients to create a balanced bite that will keep you coming back for more! It's the perfect recipe to serve as a starter for a summer dinner party or dessert to end the night.
Ingredients:
1 package of Schär gluten-free puff pastry dough, 2 sheets
1 room temperature egg
2 teaspoons water
1 wedge of brie cheese (5.3 ounces)
2 large Bartlett pears
1/4 cup honey
1 bag of Santé Candied Walnuts
1 sprig of fresh rosemary
Instructions:
Preheat the oven to 400 degrees Fahrenheit and line a large baking sheet with parchment paper
Thaw the puff pastry sheets according to package instructions. Once thawed, carefully unroll and cut into six small pieces of four squares. Repeat with the other sheet, then place on the prepared baking sheet.
Combine the egg and water, then brush over each puff pastry piece to prevent burning.
Slice the wedge of brie cheese into 2″ pieces and place on the puff pastry (two pieces of brie if you cut the sheet into six pieces, or three pieces of brie for four squares).
Wash and slice the pear before placing two pieces on top of the brie.
Drizzle a teaspoon or two of honey over each puff pastry piece before sprinkling with crushed walnuts and a few pieces of fresh rosemary.
Place on the center rack and bake for 15-17 minutes until golden brown.
Recipe by The Bottomless Pit featuring Santé Candied Walnuts.