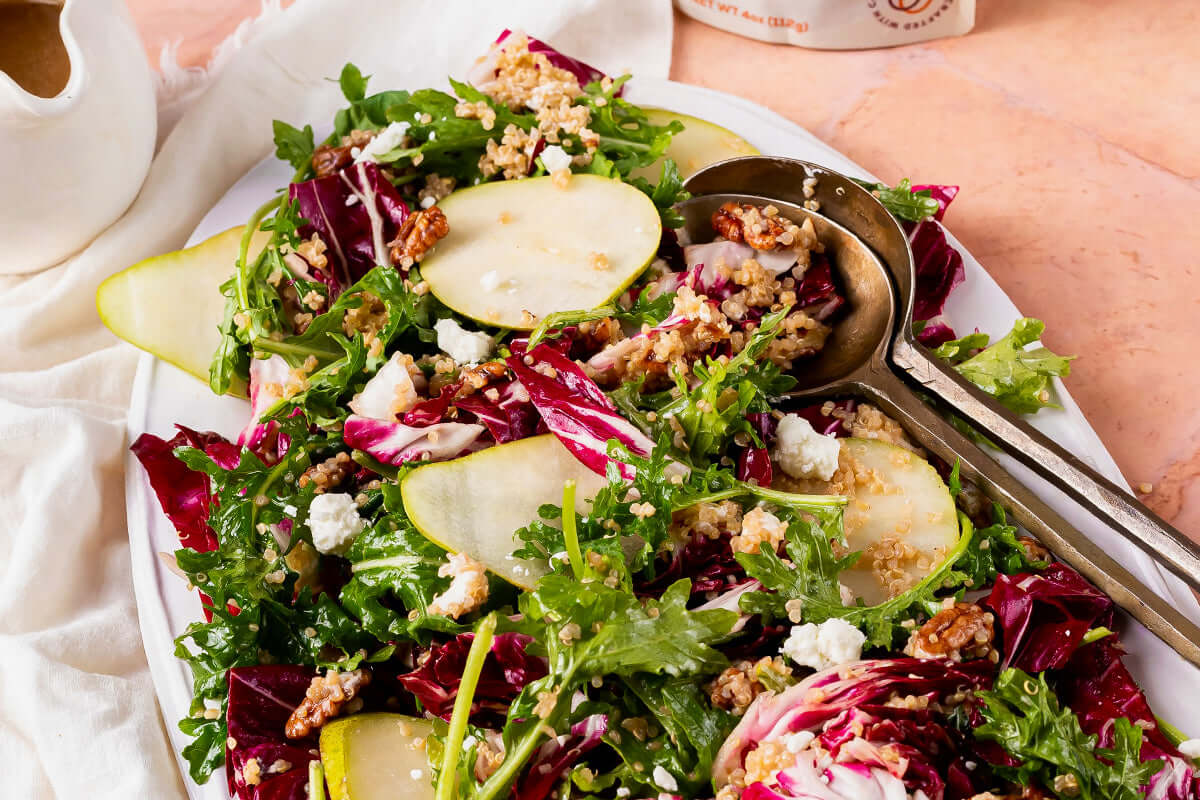 This simple, yet elegant radicchio salad is the perfect recipe to make when you're looking for an easy appetizer or side. The homemade maple vinaigrette is a dressing you'll want to repeat for other salads or for drizzling on everything! Plus, this recipe can be made in less than 30 minutes.
For the Salad:
1 head of radicchio
4 cups baby kale, washed
1 cup quinoa, cooked
1 Bartlett pear, cored and sliced
1 cup Santé Candied Pecans, chopped
1/3 cup goat cheese, crumbled
For the Vinaigrette:
1/4 cup olive oil
3 tablespoon maple syrup
2 teaspoons dijon mustard
2 teaspoons red wine vinegar
1/2 teaspoon pepper
1/4 teaspoon salt
Instructions:
Cook the quinoa according to the package instructions. Tip: Cook the quinoa in broth instead of water for a more flavorful finish. Allow the quinoa to cool, uncovered, once cooked.
Wash the radicchio, then submerge in a large bowl of ice water for 20 minutes.
During this time, make the vinaigrette. Add all of the ingredients to a mason jar and shake vigorously, then set to the side.
After the 20 minutes, remove the radicchio from the water and gently pat dry with paper towels. Cut the radicchio in half, lengthwise down the stem. Remove the stem, then cut the two pieces in half before cutting again into quarters. Place in a large bowl with the baby kale.
Core the pear and slice before adding to the salad.
Once the quinoa has cooled to room temperature, add to the salad.
Sprinkle the chopped pecans and crumbled goat cheese over the salad.
Drizzle the maple vinaigrette over the salad, then use salad tongs to toss to evenly distribute the vinaigrette. Serve the salad and enjoy!
Recipe by The Bottomless Pit featuring Santé Candied Pecans.