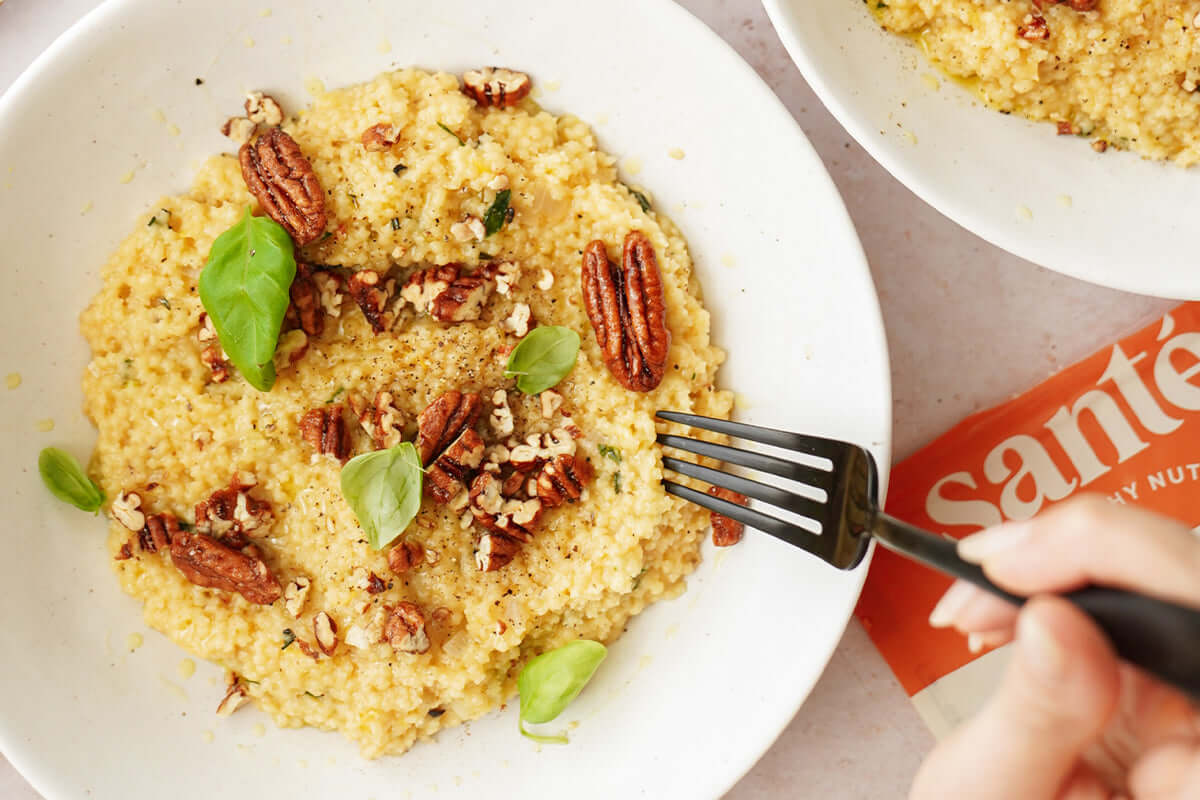 This truffle pastina recipe is creamy, earthy, and the ultimate comfort dish. Pastina is a tiny form of pasta, usually round in shape. This risotto-like recipe comes together in just 30 minutes. 
Ingredients:
2 tbsp olive oil
1/2 yellow onion, diced
3 garlic cloves, minced
1 tsp salt
1/2 tsp ground pepper
4 cups water
1 tbsp vegetable stock paste
1 1/2 cups pastina pasta
1/4 cup white wine, optional
1 tsp lemon zest
1 tbsp lemon juice
1/2 cup shredded parmesan cheese
1/2-1 tsp minced white truffles in oil
2 tbsp minced fresh basil
1 tbsp minced fresh rosemary
2 tbsp butter
1/2 cup Santé Nuts Candied Pecans
Instructions:
Warm 4 cups of water or vegetable stock over low heat in a medium-sized pot. Keep warm on the stove until ready to use.
In a large saute pan, heat 2 tbsp olive oil to a large frying pan over medium heat. Add onions and garlic, cook until softened, 3-4 minutes. Season with salt and pepper.
Add pastina noodles and stir to coat, about a minute. Stir in vegetable stock paste until combined, about a minute. Deglaze with white wine (if using) and stir until alcohol has evaporated. 
Start adding hot broth to the pan. Start with 1 cup of broth, and bring to a gentle simmer. Simmer and stir until most of the broth is absorbed. Keep adding 1 cup at a time, letting the pastina absorb it slowly, each time, stirring often until all of the water or broth has been added. The pastina should be al dente and creamy.
Stir in lemon zest, lemon juice, parmesan cheese, truffle sauce, fresh basil, fresh rosemary and butter to finish the dish. Taste and adjust seasoning with more salt, pepper or truffle sauce if needed.
To serve, top the pastina with Candied Pecans & a drizzle of olive oil.
Recipe by Food by Maria featuring Santé Candied Pecans.