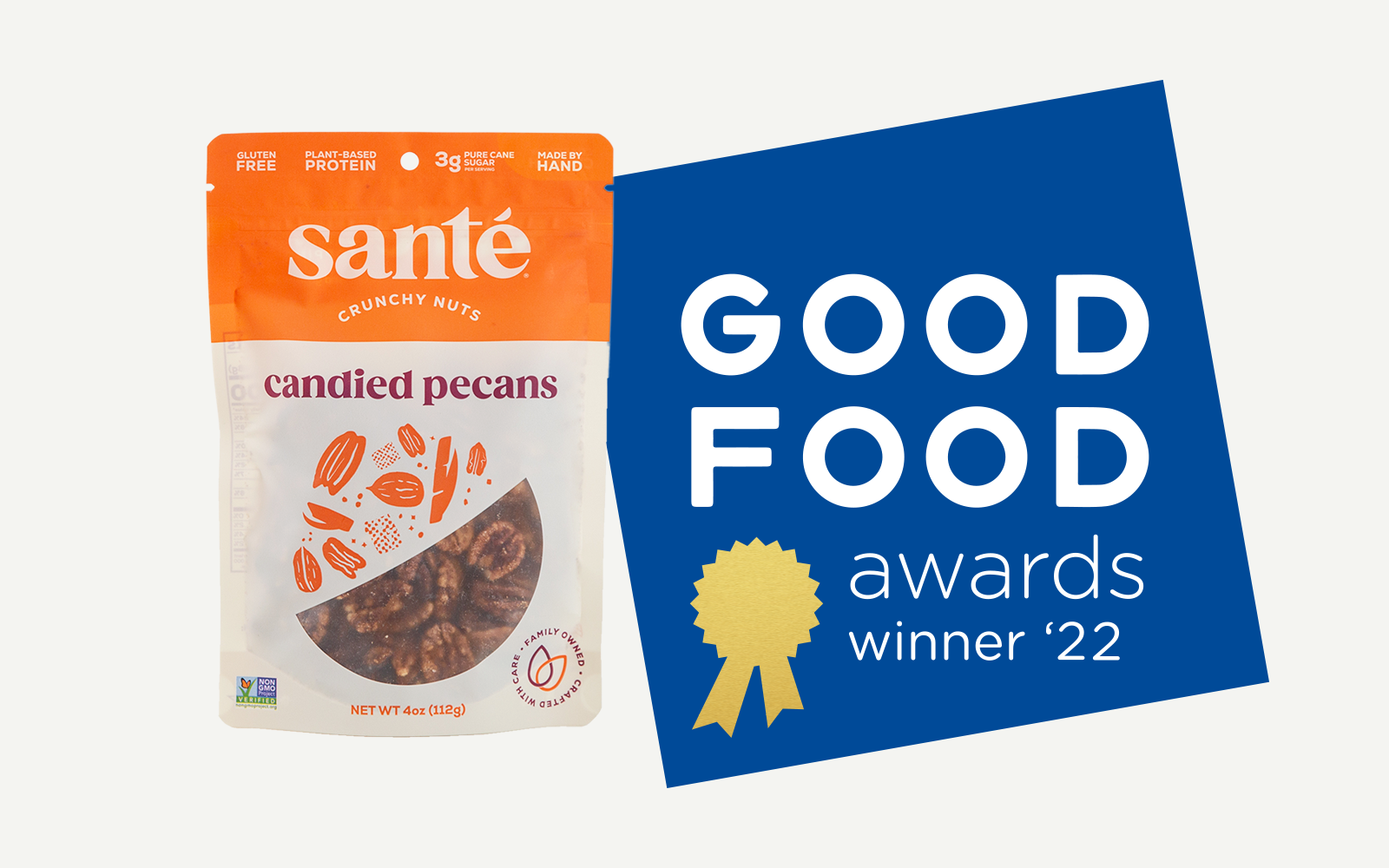 Last November, we announced that our Candied Pecans were shortlisted as a Finalist in the Snack Category of our industry's prestigious Good Food Awards. Today, we're elated to announce that Santé Nuts was selected a Winner! 
We're incredibly humbled and honored to be named as a leader among  American craft food producers creating delicious and authentic snacks. Our Candied Pecans stood out from over 2,000 entries submitted from makers across the country. The Good Food Awards judges select the exceptional food crafters who top the charts in a Blind Tasting and meet the environmental and social responsibility standards of the Good Food Awards. 
The winners in the Good Food Awards snacks category have met the highest standards of achievement with meticulously sourced, high-quality ingredients that have been thoughtfully prepared with the right snacking moment in mind. We consider these snacks the tastiest items to grab between meals! Whether it be through the crisp texture of a cracker or the unique flavor combination of a granola, snacks celebrate a diversity of flavor profiles and textures.
We take a lot of pride in how we craft our products, paying special care to every batch of nuts we make. Our process is rare in the food industry, and we were able to surpass The Good Food Awards' rigorous list of qualifications:
Made with a balanced objective of local, organic and highest-quality.
Made with transparency in supply chain.
Free of high fructose corn syrup, palm oil and artificial ingredients, including colors, flavors and preservatives.
Free of genetically modified ingredients.
Made with spices that are certified organic, Fair Trade, or traceable to the farm level.
Ingredients grown without the use of synthetic herbicides, pesticides, fungicides or fertilizers.
Made by a crafter that is an upstanding member of the good food community, committed to equity and inclusion in all levels of their business
To learn more about the Good Food Foundation and to see a full list of the 2022 winners, click here.