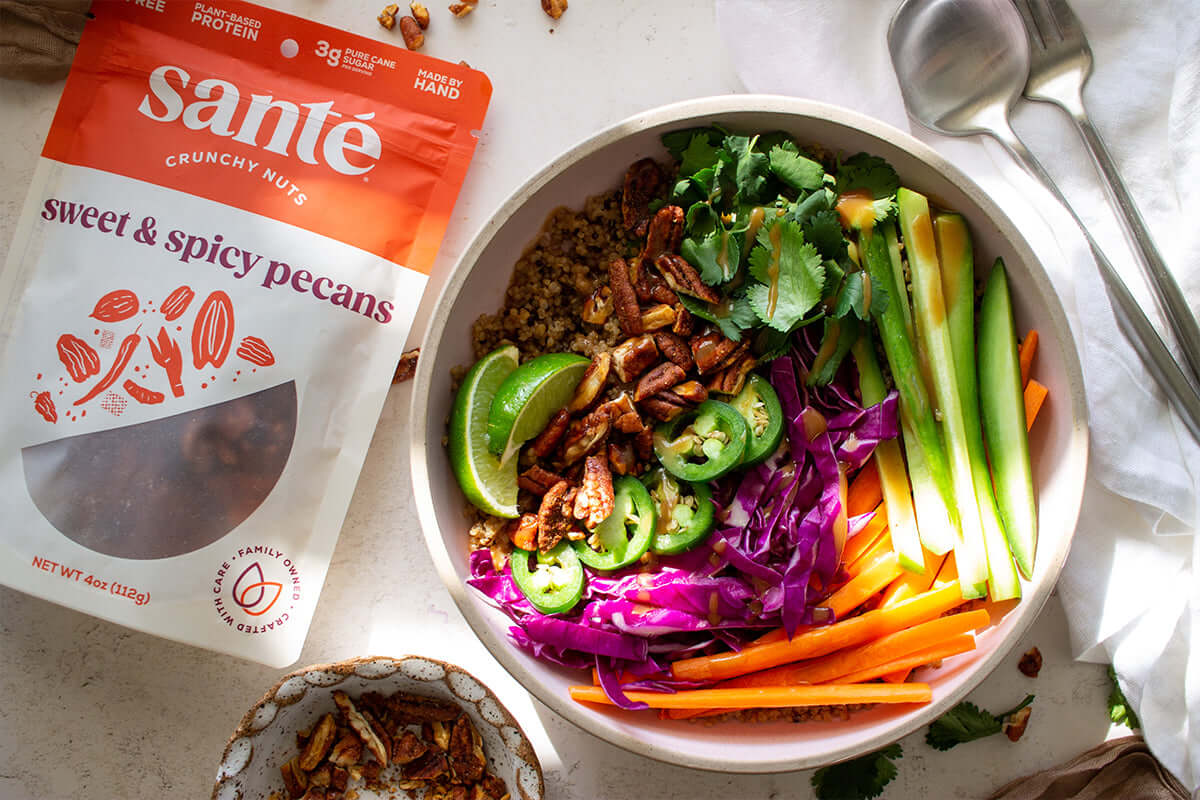 This colorful and crunchy bowl comes together quickly, making it an easy and healthy weeknight meal. The bowl is topped with Sweet & Spicy Pecans, which adds nutritious and filling plant-based protein, plus a flavorful touch of heat and crunch. 
Bowl:
1/2 cup quinoa
1 tsp sesame oil
1/2 lime
Pinch of salt
1 oz purple cabbage, chopped
1 oz carrots,

julienned 

1 oz cucumber, julienned 
Fresh cilantro
Jalapeño slices
1 oz Santé Sweet & Spicy Pecans, chopped
Peanut Dressing:
1/4 cup smooth peanut butter
1/2 lime
2 tsp soy sauce (or tamari)
2 tsp fresh ginger, grated
1 tsp sesame oil
1 clove garlic, minced
Sea salt, to taste
Instructions:
Cook quinoa according to package instructions. Add cooked quinoa to a shallow bowl. 
Toss quinoa with sesame oil and lime juice. Season with salt.
Arrange cabbage, carrots, and cucumber on top of quinoa. 
Make dressing. Whisk peanut dressing ingredients in a small bowl until smooth. Mix in 1-2 tablespoons of water until reaching desired dressing consistency. 
Pour dressing over quinoa and vegetables. 
Garnish with cilantro, jalapeño, and chopped pecans. 
Recipe by The Bonnie Fig featuring Santé Sweet & Spicy Pecans.