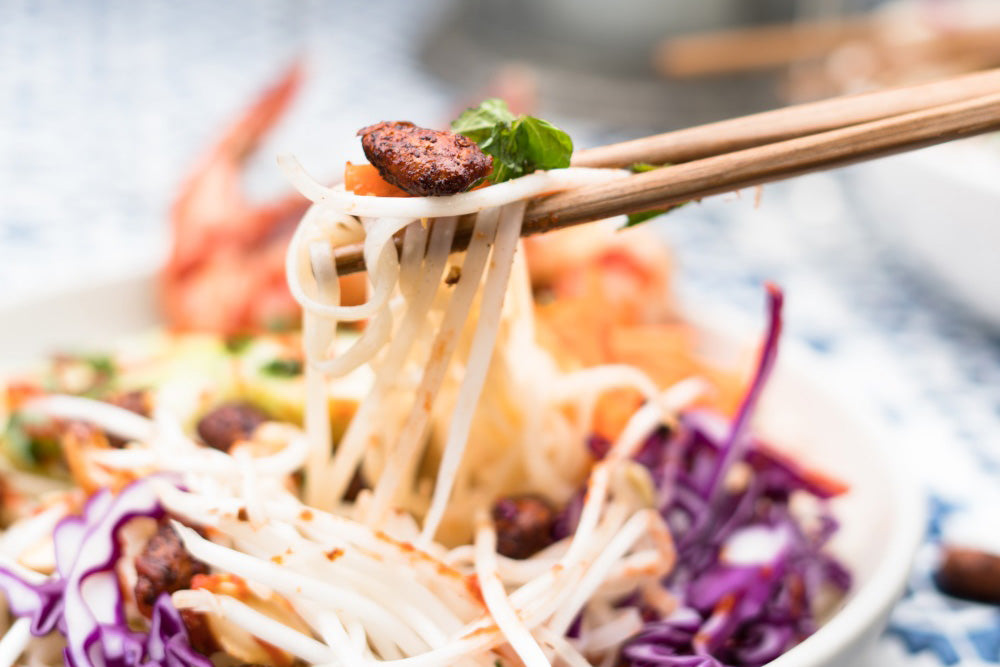 One of our favorite summer meals comes from this Vietnamese rice noodle bowl recipe, but you might find it's a delicious dish any time of year. Best of all, once the slicing and dicing is done, but this comes together in a snap, with nearly no cooking required. Use the thinnest possible rice vermicelli for this noodle bowl recipe and then pile on the vegetables in tidy little heaps for the nicest presentation. Our Chipotle Almonds are the perfect addition to this rice noodle bowl recipe — they replace peanuts for the crunch (and making it a great option for peanut allergy sufferers), plus the smoky heat from the almonds really makes the sauce sing. We like to serve spring rolls with this dish, and be sure to try this dish with our chicken satay skewers.
Prep time: 30 minutes
Cook time: 15 minutes
Total time: 3:15
Servings/Yield: 8 Servings
Ingredients:
½ cup fish sauce
¼ cup preferred vegetable oil
¼ cup sugar
¼ cup lime juice
1 serrano or Thai chile, thinly sliced
1 garlic clove, minced
1 pound large shrimp in the shell
12 ounces thin dried rice noodles
1 cucumber, peeled and sliced
1 carrot, peeled and cut into matchsticks
1 cup mung bean sprouts
1 cup Santé Chipotle Almonds
Fresh mint leaves
Fresh cilantro leaves

Directions:
In a medium bowl whisk together fish sauce, oil, sugar, lime juice, chile, and garlic. Add shrimp, toss to coat, cover, and refrigerate at least 1 hour or up to 4 hours. Soak 8 bamboo skewers in water.


Soak noodles in a large bowl of warm water for 30 minutes or until tender. Drain well and rinse under cold water. Drain well and divide between bowls.


Prepare a hot grill fire or heat a grill pan over medium-high. Remove shrimp from marinade, reserving marinade. Thread shrimp onto skewers and grill, turning once, until cooked through, about 3 minutes. Divide shrimp between bowls.


Transfer marinade to a small saucepan with ½ cup water, bring to a boil, and boil 5 minutes.


Divide cucumber, carrot, bean sprouts, almonds, mint, and cilantro between bowls, then drizzle with fish sauce mixture.