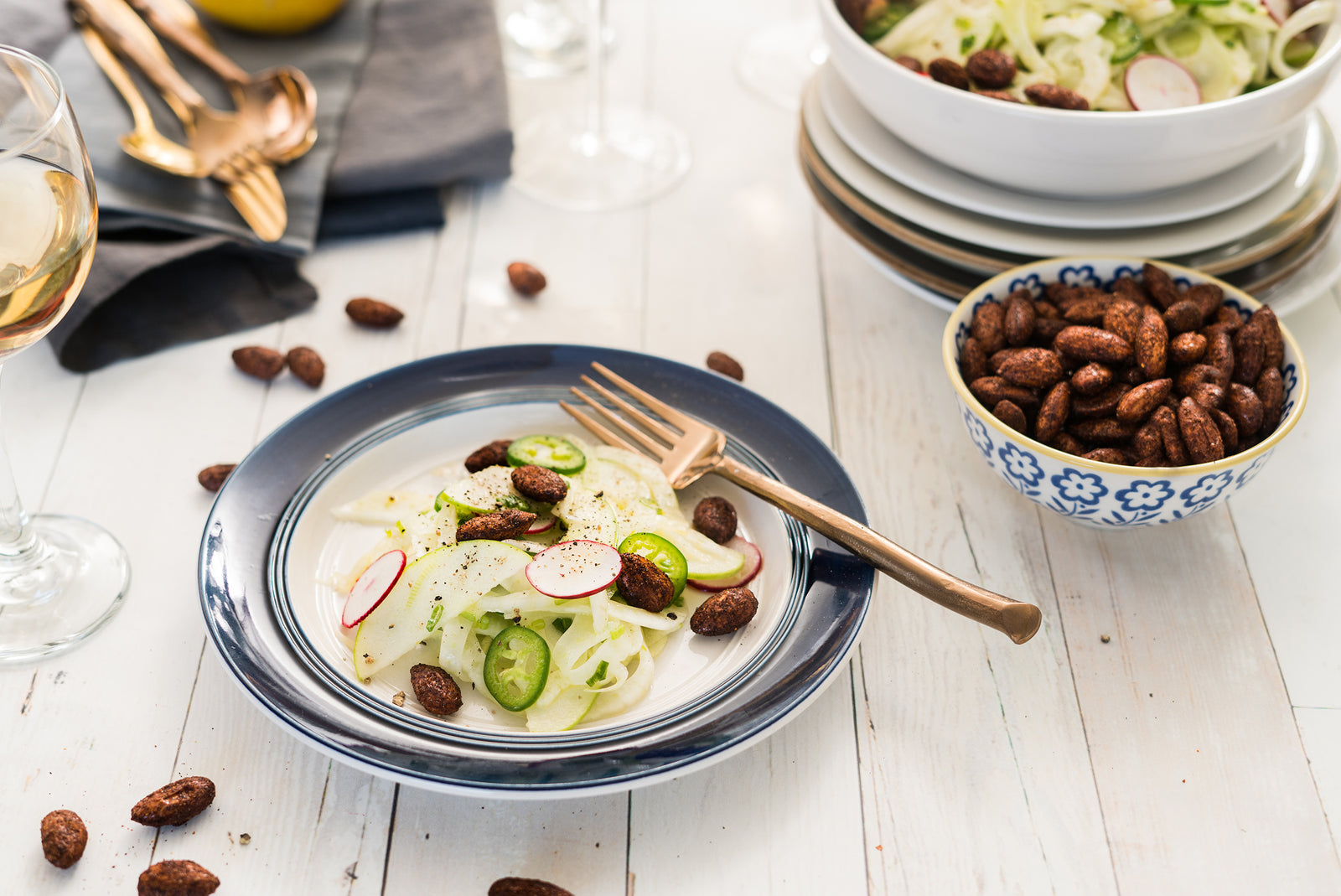 Prep time: 30 minutes
Cook time: n/a
Total time: 30 minutes
Servings/Yield: 4 Servings
A fennel and apple salad recipe as versatile as this one will get a lot of use. With sliced jalapeños and our chipotle almonds, it goes great with fish tacos, it's a match made in heaven for grilled Italian sausages (or Spanish chorizo), and it's also perfectly wonderful with a store-bought rotisserie chicken. This spicy fennel, apple, and almond salad is a nice way to brighten up a plate of rich enchiladas or as a hearty side. Even though this fennel salad recipe doesn't require the fronds, be sure and save them for other uses—they're a really lovely soft herb to sprinkle on chicken salad or a lobster roll. (The stalks can go into your stock pot to flavor a bouillabaisse.)
Thinly shaved fennel, tart apples, red chiles, green onion, and Santé Chipotle Almonds with lemon and olive oil.
INGREDIENTS
1 large fennel bulb, fronds removed
1 tart apple
1-2 red or green chiles, very thinly sliced
3 green onions, thinly sliced
2 tablespoons olive oil
2 tablespoons lemon juice
½ teaspoon fine sea salt
½ cup Santé Chipotle Almonds
DIRECTIONS:
Hold fennel bulb by its base and use a mandolin to carefully shave fennel into very thin pieces. Alternatively, slice very thinly with a sharp knife.

Cut apple into 4 pieces around core, and discard core. Use mandolin or sharp knife to thinly slice apple.

In a medium bowl toss together fennel, apple, chiles, green onion, oil, lemon juice, and salt. Top with almonds.