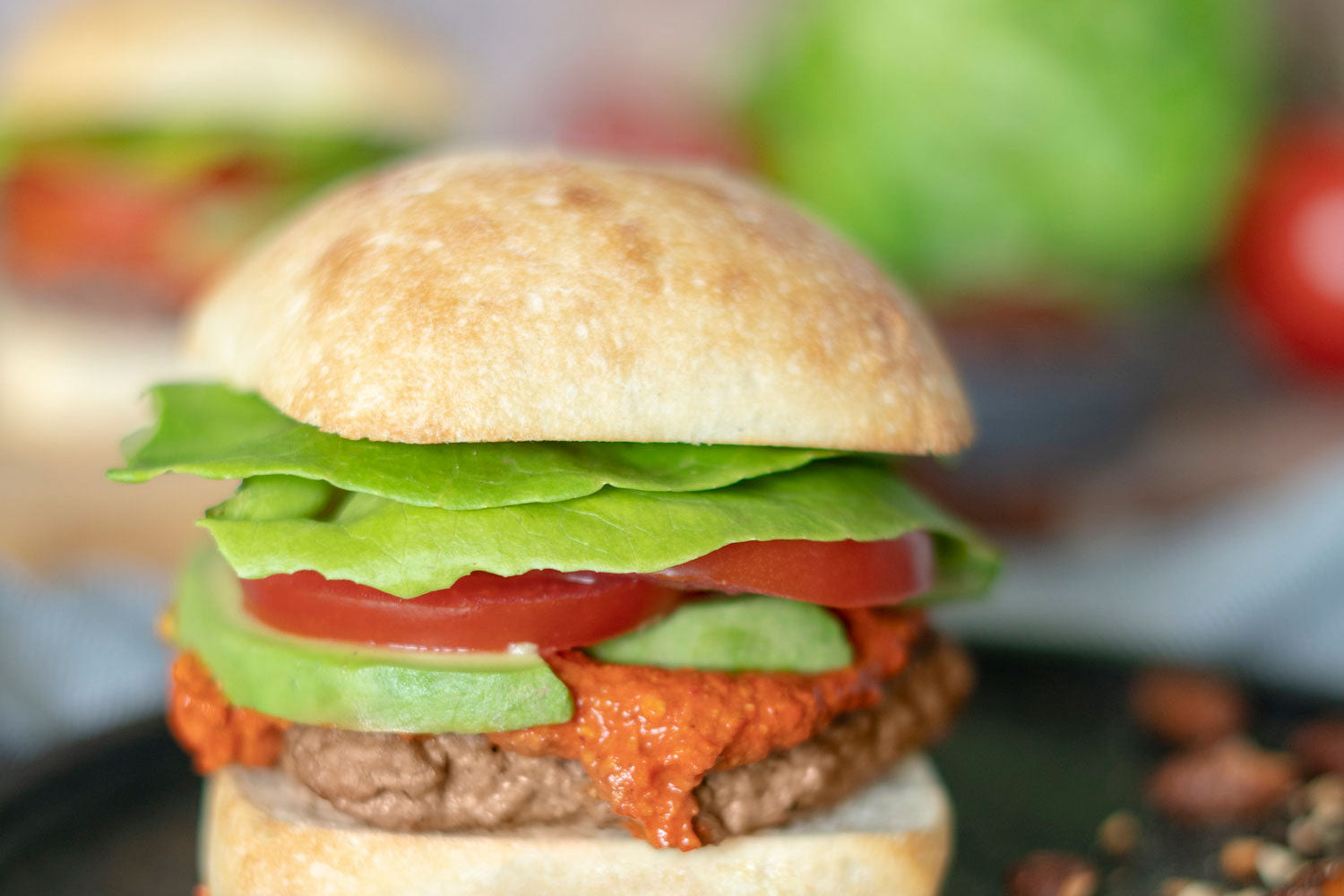 With a burger recipe like this, you'll be tempted to serve this cookout classic on a white tablecloth. Our romesco burger recipe will make you feel like you're on a holiday in sunny Catalonia. Best of all, it can be made with just a few pantry basics, so you can whip up this easy recipe anytime. This romesco recipe gets a little spicy zip from our Chipotle Almonds, which are a perfect complement to smoky pimentón. If you'd like to kick up the smokiness, feel free to fire-roast red bell peppers just for this romesco — a burger this good is worth a little extra effort! We think this burger recipe is best made with good-quality grass-fed chuck, but you'll still have a rich and juicy burger with a leaner meat, if it's topped with a romesco sauce made with our buttery, protein-rich almonds.
Prep time:20 minutes
Cook time:10 minutes
Total time: 30 minutes
Servings/Yield: 4 Servings
Ingredients:
1 pound ground beef
Fine sea salt and black pepper
4 large ciabatta rolls, halved and lightly toasted
1 large avocado, pitted and sliced
1 large tomato, sliced
8 lettuce leaves
For romesco sauce:
1 cup roasted red peppers, drained
2 tablespoons tomato paste
½ cup Santé Nuts Chipotle Almonds, roughly chopped
1 tablespoon red wine or sherry vinegar
2 teaspoons smoked paprika
½ teaspoon fine sea salt
¼ cup olive oil
Directions:
In a food processor combine peppers, tomato paste, almonds, vinegar, paprika, and salt. Process until finely ground. With machine running, add oil in a thin stream until combined.


Prepare a hot grill fire. Shape beef into 4 equal patties. Sprinkle with salt and pepper. Grill, flipping once, until cooked to desired degree of doneness, about 3 minutes per side for medium-rare.


To serve, place burgers on rolls and top with romesco sauce, avocado, tomato, and lettuce.