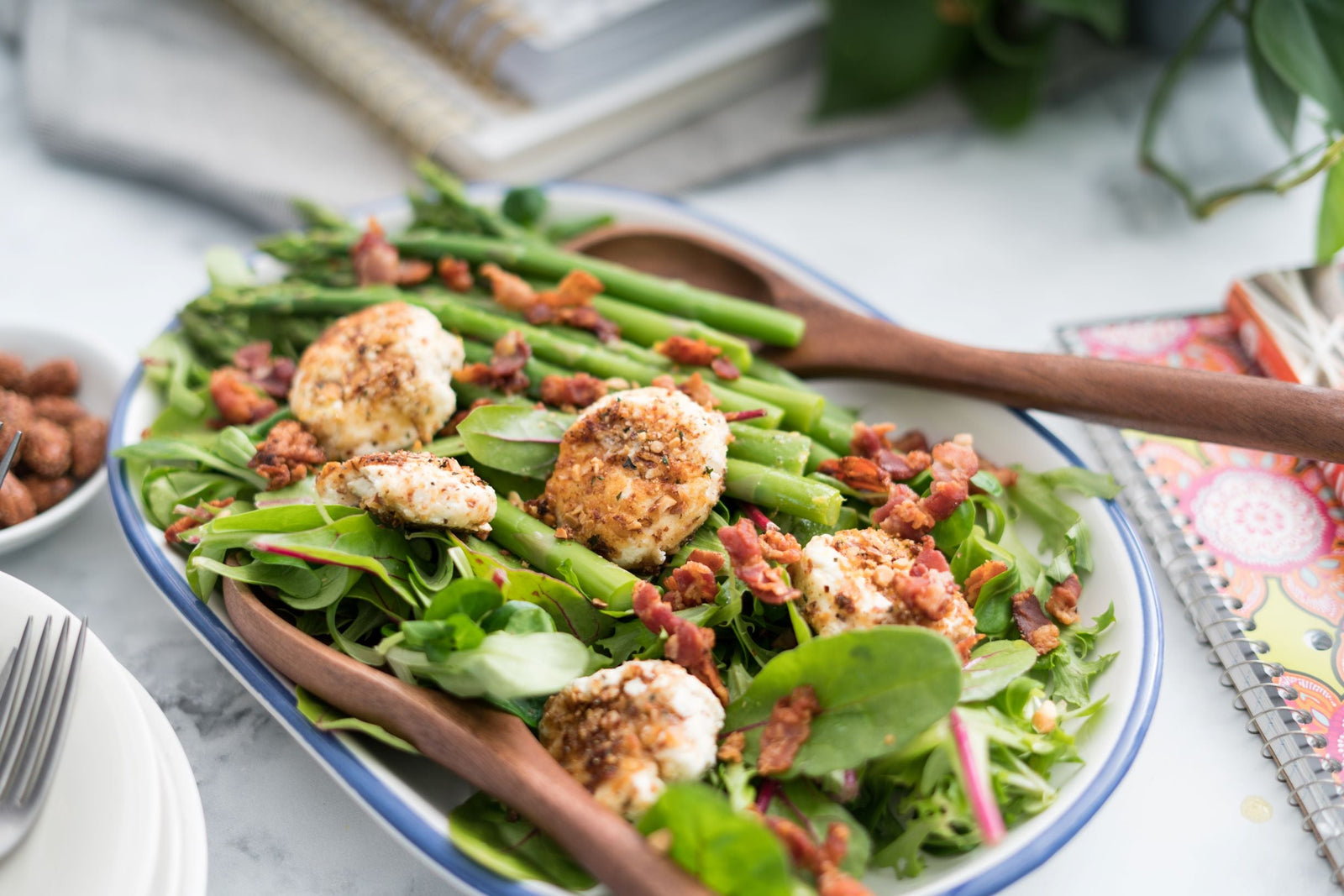 A hearty and delicious bistro-style salad featuring savory fried goat cheese medallions made with our crunchy Garlic Almonds. This satisfying salad can easily be made vegetarian by omitting the bacon. Enjoy this as a side to a main dish or it can enjoyed on its own. 
4 servings
For goat cheese medallions:
¼ cup fine dry bread crumbs
⅓ cup Santé Garlic Almonds, finely ground in a food processor
½ teaspoon minced fresh thyme
¼ teaspoon fine sea salt
8 ounce log soft goat cheese
1 egg, well-beaten
2 tablespoons olive oil
For vinaigrette:
Zest from ½ Meyer lemon
2 tablespoons Meyer lemon juice
1 teaspoon Dijon mustard
¼ teaspoon fine sea salt
¼ teaspoon black pepper
1 garlic clove, minced
½ cup olive oil
8 slices bacon, cut crosswise into ¼" strips
1 bunch asparagus, tough ends trimmed
1 large head frisée lettuce or 8 cups any spring green, such as mâche or spring mix
Directions:
In a small bowl mix together crumbs, Garlic Almonds, thyme, salt, and pepper. Cut goat cheese into 8 rounds. Dip goat cheese lightly in egg, then gently press cheese into crumb mixture on both sides and place on a plate. Refrigerate at least 30 minutes.
Meanwhile, in jar with a tight-fitting lid, combine lemon zest and juice, mustard, salt, pepper, garlic, and oil. Place lid on jar and shake well to combine.
Heat a large nonstick skillet over medium, and cook bacon, stirring occasionally, until browned and crisp. Transfer to a paper towel-lined plate to drain and set aside.
Wipe out skillet used to cook bacon, add olive oil to pan, and turn heat to medium low. Gently fry goat cheese medallions, turning once, until golden brown on both sides, about 2 minutes per side. If needed, use a spatula to help gently form the medallions. Transfer to plate with bacon to drain.
Bring a large saucepan of water to a boil. Add asparagus and cook until crisp-tender, about 3 minutes. Drain well, transfer to ice water, and cool completely. Drain well.
In a large bowl toss frisée with vinaigrette and divide between plates. Top with bacon, asparagus, and goat cheese medallions.