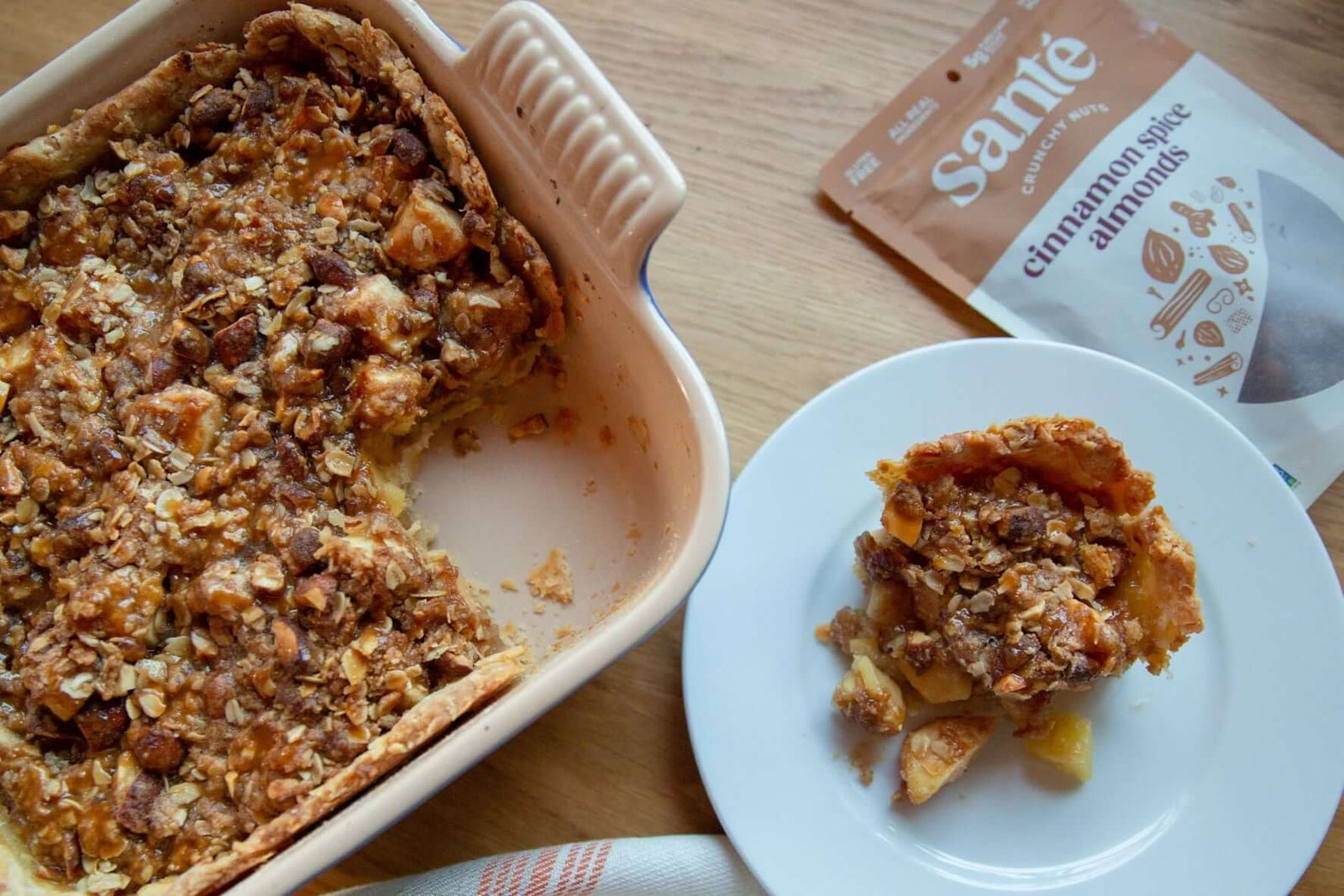 A sweet and crunchy bake that's great for dessert or as an indulgent breakfast. Apples, ginger, and vanilla perfectly blend together for a comforting and fruity base, highlighted by a sweet oat topping made with toasty Cinnamon Spice Almonds. Serve with a hot cup of coffee for a cozy and delectable pairing.
Ingredients
Crust
Homemade or store-bought pie crust, chilled
Filling
1/2 cup sugar
1/3 cup all-purpose flour
1/2 teaspoon ground ginger
1/4 teaspoon kosher salt
4 large apples
1 tablespoon lemon juice
1 teaspoon vanilla extract
Topping
1/2 cup flour
1/2 cup brown sugar
1/2 cup rolled oats
1/2 cup Santé Cinnamon Spice Almonds, roughly chopped
1 teaspoon ground cinnamon
1 stick unsalted butter, cubed and chilled
Optional: Caramel sauce, store bought or homemade
Directions
Crust
Roll out the chilled pie dough into a 16 x 16 inch square. Carefully transfer to an 8' square baking dish, lining the bottom and sides of the dish with the dough. Fold any excess edges under and crimp the dough with fingers or a fork. Set aside.
Filling
In a small bowl, combine sugar, flour, ginger, and salt. Set aside. Peel, core, and chop apples into medium pieces and place in a large bowl. Sprinkle with lemon juice and vanilla extract. Add sugar mixture to the apples and stir gently to combine until all fruit is well coated. Pour apple mixture into prepared pie crust. Set aside.
Topping
Combine flour, brown sugar, oats, Cinnamon Spice Almonds, and cinnamon in a medium mixing bowl. Add cold butter to the mixture and use a pastry cutter to combine until it resembles coarse crumbs. Sprinkle the topping over the apples.
Bake
Place baking dish in a preheated 375°F oven. Bake for 60-70 minutes or until apples are tender and topping has browned. Cool pie on a wire rack for 30-60 minutes before serving. Drizzle with caramel sauce before serving.