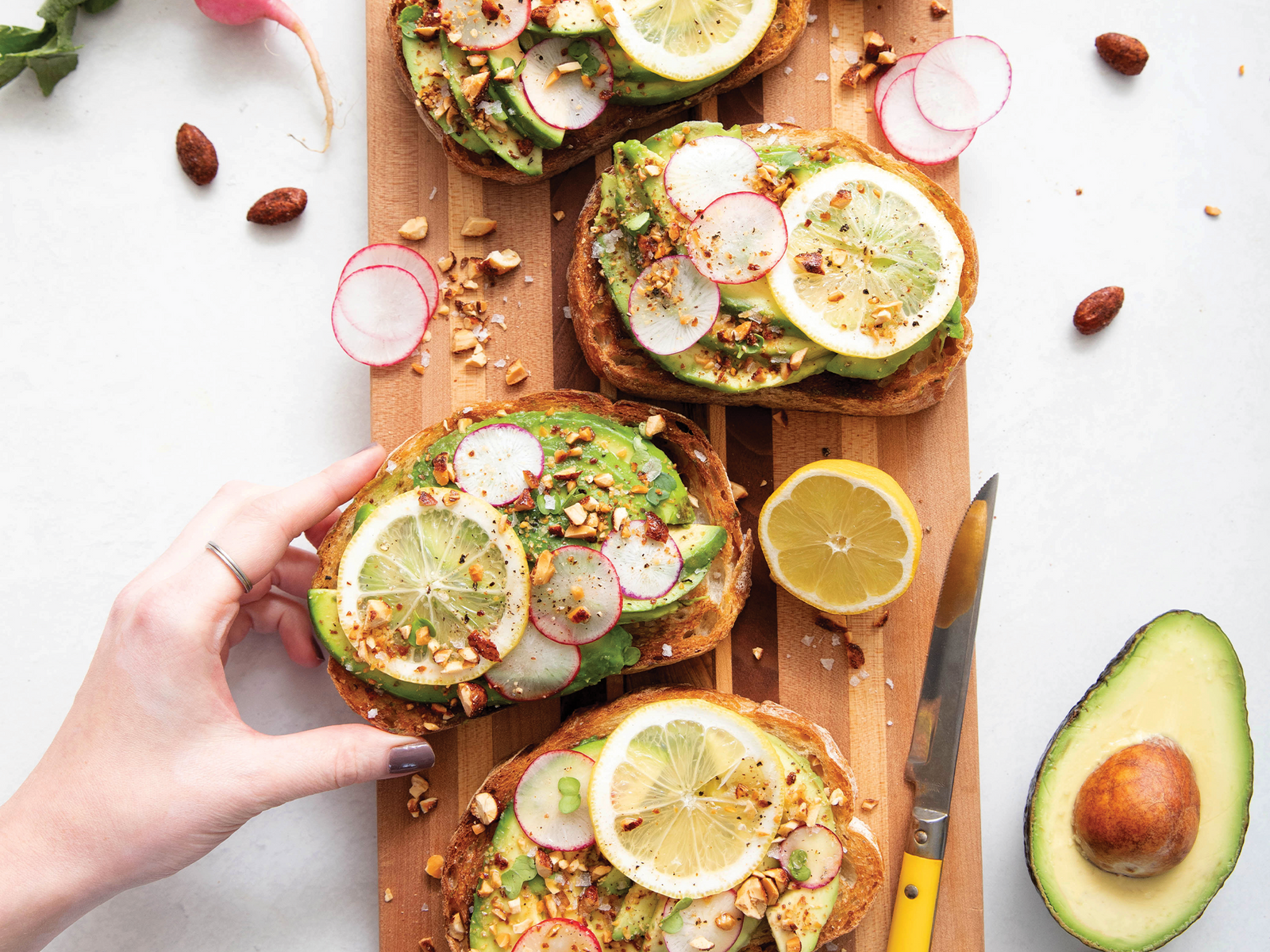 We love the versatility of toast. From simple avocado toast to multi-layered crostini, you can enjoy toast as a main meal or just a bite-sized canapé. Here are a few tips to build a better toast and recipe ideas for inspiration.
Start with your toast. Seems simple, but the options are endless! We recommend a crusty bread (like toasted baguette slices) or a sturdy cracker that can hold all your toppings. 
Choose the bottom layer. Start with spreadable and soft ingredients (like peanut butter, avocado, or goat cheese) as a base for any additional layers. 
Stack it! Layer on additional toppings & flavors that complement your first layer in both taste and texture.
Finishing touches. Add a final pop of color and flavor with small but impactful ingredients, like lemon zest, microgreens, and flaky sea salt. Of course, we always top our toasts with chopped Santé Nuts for extra crunch.
Toast Ideas
Need some inspiration? Here are some recipe ideas for your next toast.
| | |
| --- | --- |
| | A classic combination of peanut butter, bananas, and honey. We made a grown-up version by adding coconut flakes, Santé Chocolate Almonds, and a pinch of cinnamon. |
| | Serve up a variety of crostini combinations at your next gathering. Include spicy, savory, and sweet flavors for a range of flavors and to satisfy every taste.   |
| | Try adding fresh fruit slices to your next toast for an unexpected, but deliciously healthy lunch. Here we added ripe kiwis and strawberries to a ricotta base, and topped it with Santé Candied Walnuts. |
| | Try making a gluten-free 'crostini' with crisp sweet potatoes instead of crackers. Get the recipe here. |
| | Find inspiration in other dishes, like this taco toast with queso fresco, avocado, cilantro, lime juice, tomatoes, and Santé Garlic Almonds. |
| | A toasted baguette slice makes for an excellent base for melted brie. Top it with pomegranate seeds and chopped Santé Chocolate Almonds for a crowd-pleasing and festive holiday appetizer. |
| | Keep it simple with just a few ingredients: avocado, egg, and Santé Garlic Almonds.  |
| | An open-face bagel sandwich is basically toast. Pile it high with toppings for a hearty main meal. |
| | Crème fraîche makes an excellent neutral base for both savory and sweet toppings. Here we spread crème fraîche on toasted sourdough, and topped it with prosciutto, figs, honey, and Santé Garlic Almonds. |
| | Instead of crackers, try using squares of puff pastry for an easy flaky base. Try our recipe for Beet & Goat Cheese Tarts, featuring Santé Candied Walnuts.  |
Want more ideas? Browse our recipes.