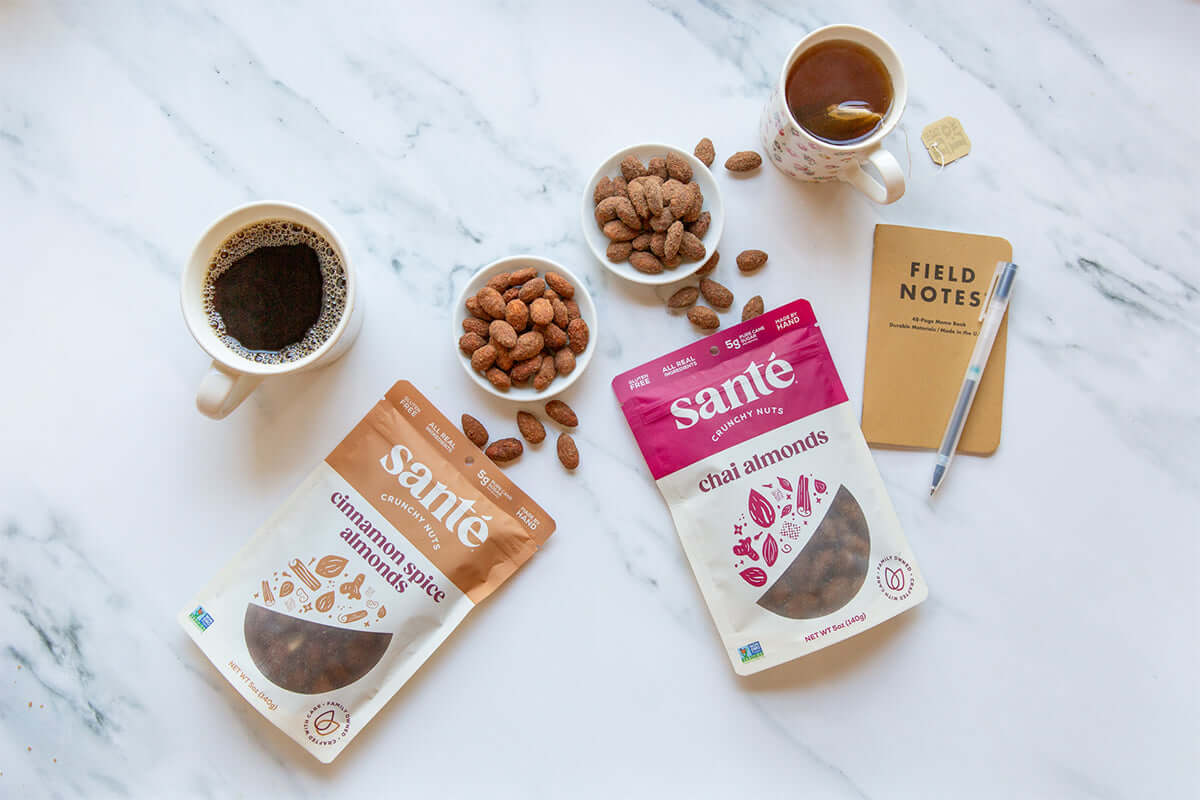 We recently debuted our newest flavors,
Chai Almonds
and
Cinnamon Spice Almonds
. Consider them sibling flavors — both seasoned with similarly cozy spices, but each one has an undoubtedly unique taste. Here's the story of our new favorite treats.
After rebranding last year, Navot and I wanted to introduce a new flavor for the new Santé. During our weekly meetings over coffee we'd sample the latest batches trying to land on the perfect spice combinations. At some point, I realized we didn't really have an almond that complemented either coffee or tea particularly well. We thought this was a shame because really, who doesn't like a little treat with daily caffeine intake?
After many experimentations and trials, we landed on Cinnamon Spice Almonds and Chai Almonds.
Hooked at first bite.
The next week, Navot was grinning from ear to ear as he handed me a bag of almonds. "Try it with coffee," he suggested. I took a sip and a taste and immediately reached for more. The complex flavors coated my mouth and the crystal sugar delivered a tantalizing extra crunch. "These taste just like a cinnamon coffee cake!" Apparently I hit on it, because coffee cake is exactly what he was going for when creating this flavor! A little indulgent and delightfully complex, we knew this was the perfect recipe to launch during the holiday season.  
A spiced taste of home. 
Spicing coffee and tea is a common practice in several cultures. Navot and Sara (our mom and founder) wanted to create a flavor that paired well with tea, but also reminded us of a middle eastern spices. It turned out that a lot of middle eastern spices taste great but are hard to combine with an almond. After a few attempts, they hit on the idea of Chai spices on almonds. Chai Almonds have a complex flavor combination with six spices working harmoniously. They're great any time, but try them with a strong cup of black tea for a real treat.
Like all of our flavors, these almonds are roasted one batch at a time and seasoned by hand — a craft process that makes our nuts uniquely crunchy and delicious.